Living Well: keep antibiotics working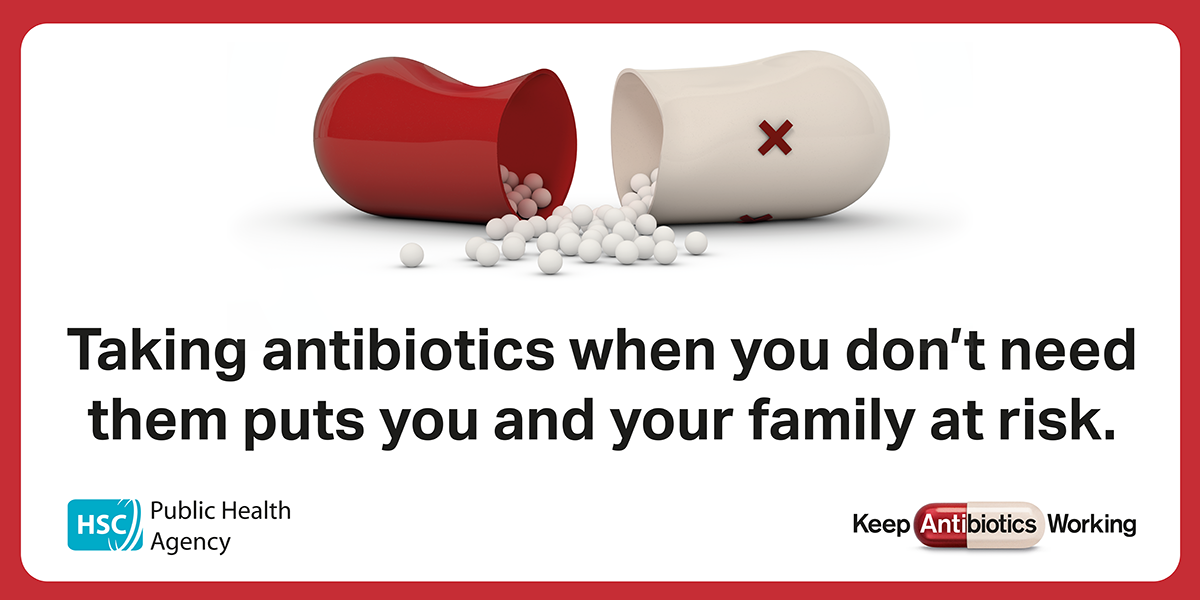 Living Well campaign emphasises importance of keeping antibiotics working
The 'Keep antibiotics working' campaign highlights the issue of antibiotic resistance, the personal risk associated with over/mis use of antibiotics and the need to reduce the demand for antibiotics.
The campaign is running in community pharmacies throughout October and November as part of the Living Well service.
Living Well is a community-based pharmacy service offered in over 500 pharmacies across Northern Ireland. It is delivered in partnership with the Public Health Agency (PHA), Community Pharmacy NI (CPNI), and the Department of Health (DoH). The service supports you in improving your health and wellbeing by:

•    raising awareness of various public health messages and campaigns;
•    sharing of health and wellbeing information;
•    signposting to a relevant health professional, service or support in the community;
•    and using behavioural interventions, if appropriate.

Through the Living Well service, pharmacies help address risk factors that contribute to ill health in Northern Ireland. 
Antibiotic resistance is where the bacteria that cause infections become resistant to antibiotics. As bacteria become increasingly resistant to the effects of antibiotics, the number of deaths will increase. This resistance is a global health disaster that is already killing almost one million people a year. Experts predict that in less than 30 years, antibiotic resistance will kill 10 million people globally each year - more than cancer and diabetes combined.
The overuse of antibiotics in recent years means they are becoming less effective and has led to the emergence of resistant infections ('superbugs'). These infections can be very difficult, even impossible, to treat. Without effective antibiotics, minor surgery and routine operations could become high risk procedures.
Everyone can help to keep antibiotics working by taking their doctor or pharmacist's advice on antibiotics; not sharing antibiotics with family, friends or pets; not keeping antibiotics for future illnesses and always returning unused antibiotics to their local pharmacy for safe disposal (not flushing down the toilet).                      
As most simple infections clear up on their own the campaign also includes information on the importance of self-care and seeking advice from the pharmacy team if needed.
For more information, pick up a free Keep antibiotics working leaflet at your local community pharmacy or visit www.nidirect.gov.uk/antibiotic-resistance