'Break the silence, reach for help'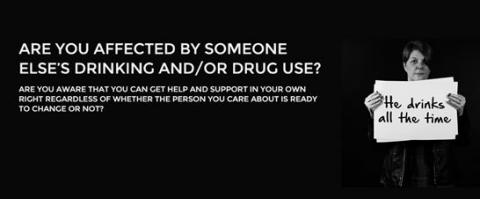 'Break the silence, reach for help' is an initiative being launched today to highlight the support that is available for family members who are affected by a loved one's drinking and/or drug misuse and encourage them to get help in their own right.
The initiative includes eight short films which will be shared on social media. They have been developed by the Public Health Agency (PHA) and the five Northern Ireland Drug and Alcohol Coordination Teams (NIDACTS) in partnership with the Alcohol and You Partnership (ASCERT, Addiction NI and South Eastern Health and Social Care Trust) who were responsible for developing the original design concept and key messages #breakthesilence and #reachforhelp.
Kelly Gilliland, Senior Health Improvement Officer at the PHA, said: "Alcohol and drug misuse is a common issue and sadly causes suffering and ill-health to many individuals, families and communities in Northern Ireland.
"The impact of living with a loved one misusing alcohol and/or other drugs can be devastating. Too often family members are caught between caring for the person with the alcohol or drug problem and struggling to cope.
"The purpose of these short story clips is to highlight that there are a number of services in place across the region which can offer you information, advice and/or one-to-one support to help you cope and understand better how you are being impacted, and information on what you can do in order to keep yourself well and your own mental health in check. These services are available to you regardless of whether or not your loved one is receiving help for his or her alcohol and/or drug problem.
"If you are affected by someone else's drinking and/or drug misuse we are encouraging you to 'Break the silence and reach for help' and to do so as early as possible in order to reduce the impact on your own health and wellbeing."
Ed Sipler, Health Development Specialist with the South Eastern Trust, part of the Alcohol and You Partnership, said: "One of the constant themes reported by family members impacted by a loved one's alcohol or drug misuse, is that feeling of chronic anxiety and worry. Everybody and every family's situation is unique and there is no rule book that says how anyone should cope. However, the services being highlighted under this campaign are able to provide a lifeline to family members by giving them practical information, advice and support in relation to how they can look after themselves and their own wellbeing throughout this difficult period. Our message to family members is clear and simple: your deserve help in your own right and there is support for you."
To view the videos visit www.drugsandalcoholni.info/familysupport/   
This dedicated webpage also includes more detailed information on the family support services available in your Health and Social Care Trust area. You can also find information on, and contact details for, additional services that offer a wide range of family support by visiting the 'Services Near You' section of www.drugsandalcoholni.info, www.familysupportni.gov.uk or by contacting your local Family Support Hub www.cypsp.org/family-support-hubs
If you or someone you know is in distress or despair, call Lifeline on 0808 808 8000.The helpline is available 24 hours a day, seven days a week. You can also access the Lifeline website at www.lifelinehelpline.info