Ask your pharmacist for winter health advice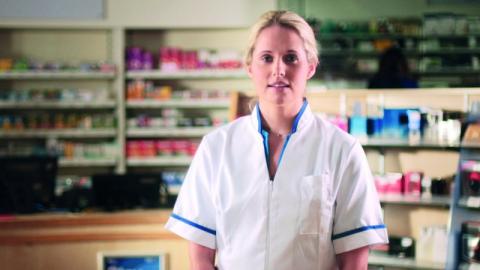 Coughs and colds are among the most common reasons for people feeling poorly over the winter period, but these minor ailments don't have to lead to a visit to your GP or out-of-hours services, says pharmacist Shauneen Ward.
Shauneen, who features in this year's 'Stay Well This Winter' campaign, is encouraging people to visit their pharmacist for minor ailments such as a cough or a cold before contacting their GP.
"Local pharmacies play an important role in helping people stay well over the winter months and are often the first port of call for people who feel unwell. Pharmacists are trained professionals who can provide advice and recommend treatments that are inexpensive to help reduce the discomfort of a minor illness such as a cough or cold," she said.
According to research from Community Pharmacy NI, over 2.5 million visits to community pharmacies every year are for advice on over the counter medicines and minor ailments, with more than 700,000 of these for children.
Shauneen also stressed the importance of using medicines correctly at home: "Always read the label of shop-bought medicines, and do not exceed the recommended dosage of any medication. Ask your local pharmacist for help and advice if you're unsure, and if your symptoms do not improve after a few days or they are getting worse, contact your GP."  
Cold weather can aggravate long-term health conditions such as asthma, lung disease and diabetes, and people over 65 can also be at risk from the effects of the cold. The Public Health Agency (PHA) and Health and Social Care Board (HSCB)'s Stay Well This Winter campaign is about getting people to ensure they look after themselves over the winter months by getting the flu jab and keeping warm.
Dr Carolyn Harper, Director of Public Health at the PHA, advises that small, cost-effective steps can help people stay well over the winter and help prevent symptoms getting worse: "Some simple steps can help protect us against the effects of the cold weather and winter viruses. If you or your children are eligible for a free flu vaccination, it isn't too late to take up the offer. Also, keeping a room warm to at least 18 degrees, moving around, and taking regular warm drinks and food, can reduce the risk of hypothermia. Putting on extra layers such as a blanket and a hat can help greatly."
For further information on how to help yourself stay well this winter visit www.nidirect.gov.uk/stay-well
Notes to the editor
The PHA and HSCB are working together this winter to ensure that people prepare for the colder period. Their joint campaign, 'Stay Well This Winter', is urging people to look after themselves and take actions that will help them stay well during winter.