Get help and support to quit smoking in 2019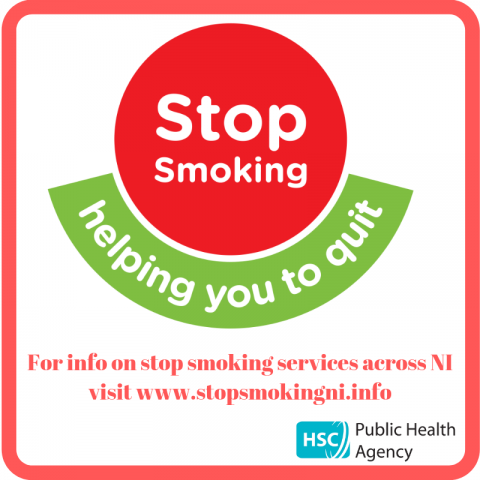 Help is at hand for anyone who attempted to quit smoking this New Year, but fell back into the habit, according to the Public Health Agency (PHA). The agency's comprehensive network of free Stop Smoking Support Services are offering tailored advice and support to help you quit for good.
"Giving up smoking is one of the best things you can do for yourself, with benefits for your health, your appearance, your finances and your relationships," said Siobhan O' Brien, Health and Social Wellbeing Improvement Senior Officer with the PHA.
"However it isn't easy and different approaches will work for different people. While some people can do it with very little support, others find that planning ahead and making use of the Stop Smoking Support Services that are available can really help them make the decision permanent."
It can take several attempts for many people to quit for good, but if you are determined you can do it.
"If you tried to quit as your New Year's resolution and relapsed, accept it, work out why it happened, and focus on how you can avoid it in the future," said Siobhan.
"While we know that stopping smoking can be a challenge, help is at hand.
"There are a range of services across Northern Ireland that have an excellent track record in helping people to quit. Experienced stop smoking staff provide a friendly, supportive service in a relaxed environment. They'll help design a stop smoking plan that will work best for you to make this as easy as possible."
Services are offered in many community pharmacies, GP practices, HSC Trust premises, and community and voluntary organisations, and can be set up in workplaces.
Top tips on giving up smoking
Make a date to give up – and stick to it!

Make a plan. Think about what could help you stop smoking, such as using a nicotine-replacement product, and have it ready before the date you plan to stop.

Get support from your local stop smoking service. Also, let your family and friends know that you're quitting. Some people find that talking to friends and relatives who have stopped can be helpful.

Keep busy to help take your mind off cigarettes. Try to change your routine, and avoid the shop where you normally buy cigarettes.

Treat yourself. If you can, use the money you're saving by not smoking to buy yourself something special.
A video showing how the PHA's Stop Smoking Support Services can help you quit your habit can be seen here.
The PHA has recently refreshed its stop smoking website with the involvement of smokers and ex-smokers, to support people in their quit attempt. The updated site has information on the benefits of quitting, stop smoking aids, and stop smoking services across Northern Ireland, and you can also order your free Quit Kit to help give you the best chance of success in becoming smoke free.
The website has an interactive map to locate services and also features local people who've successfully quit using the stop smoking service. The new URL for the website is https://www.stopsmokingni.info/