Get kids' flu vaccine before Christmas to help protect them and other family members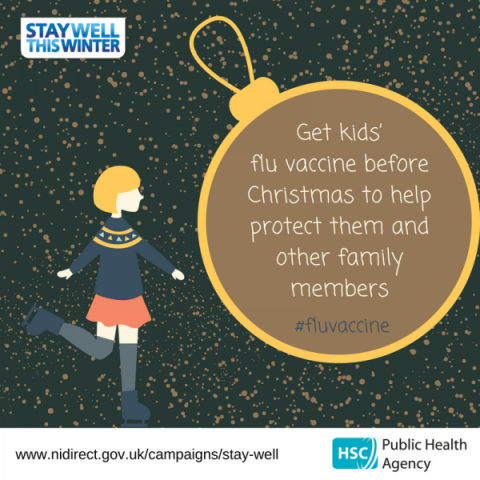 With just under half of eligible pre-schoolers having received this year's flu vaccine, the Public Health Agency (PHA) is urging parents to get young children vaccinated ahead of Christmas to help protect not only them, but also family members.
Dr Lucy Jessop, Consultant in Health Protection at the PHA, said: "Young children don't always cover their noses or mouths when coughing or sneezing, so the flu virus can spread very quickly among them, putting grandparents and younger brothers and sisters at risk of getting ill over the festive season.
"The eldest and youngest members of the family, those with heart or lung conditions, and pregnant family members can be especially vulnerable.
"The nasal spray vaccine, which is now being offered in GP surgeries to toddlers and pre-school children aged between two and four, as well as in schools to primary school children, provides a good opportunity to help protect the children who receive it, as well as their vulnerable relatives because  it reduces the likelihood of the virus being spread.
"Currently only 43% of two to four year olds have received the free vaccine, so there are still a lot of young children out there who are at a higher risk of getting flu themselves and of spreading the virus to vulnerable family members.
"Complications arising from flu can include bronchitis, pneumonia and painful middle ear infection. In severe cases, which are very rare, flu can lead to disability and even death."
Fluenz Tetra® is given as a spray up each nostril. The child can breathe normally while the vaccine is being administered and there is no need to actively inhale or sniff.
Dr Jessop continued: "Everyone who is eligible to be vaccinated against flu should see it as a positive step in protecting their health and the health of others around them.
"As it takes approximately two weeks following vaccination to develop maximum protection against flu, it is important to get vaccinated early. Flu vaccination clinics are under way and everyone should aim to have the vaccine by mid-December. If you wait until flu starts circulating, it may be too late for the vaccine to offer protection."
Pre-school children who are aged two to four are eligible to receive the vaccine. These children will be offered the vaccine at their GP's surgery. Meanwhile, children in primaries one to seven were offered the vaccine in school. If any children have missed the vaccination in school, they can ask their GP for it. In addition, people over 65, 'at risk' children and adults, and pregnant women, can receive the flu jab at their doctor's surgery.
For further information see http://pha.site/directflu or www.pha.site/fluleaflets