Major conference focuses on safer patient care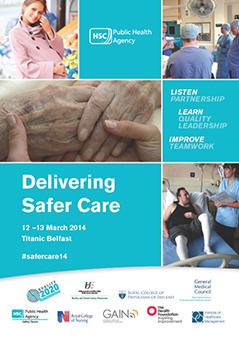 Over 350 healthcare professionals from across Ireland will gather in Belfast tomorrow for a two-day conference focusing on high quality, safe and effective care for patients and service users in the health and social care system.
The all-island 'Delivering Safer Care' Conference, hosted by the Public Health Agency's (PHA) Health and Social Care (HSC) Safety Forum and the Republic's Health Service Executive, will review recent developments, share good practice, and discuss key challenges and successful approaches to sustaining safety and quality care for our patients and service users.
As well as local presentations, the conference includes keynote presentations from experts in Safety & Improvement from the Institute of Healthcare Improvement (USA), the Social Care Institute for Excellence (UK) and from other sectors including Formula 1 Racing. 
Health Minister Edwin Poots said : "During my time as Health Minister,  I have met on numerous occasions with staff working at all levels within the HSC and I have always been struck by their desire to deliver the best possible quality services through continuous improvement.
"The aim of my Department's 10 year strategy 'Quality 2020' is for our Health and Social Care (HSC) system to 'be recognised internationally, but especially by the people of Northern Ireland, as a leader for excellence in health and social care'.  Success in delivering this strategy will depend on strong professional leadership and partnership working within the HSC.
"I remain committed to protecting and improving the quality and safety of health and social care services. Listening to the views and experiences of patients and service users will continue to be a key priority for me. I am determined that Quality 2020 will ensure that we are ready to deal with the challenges and opportunities that lie ahead and we will continue to protect and improve quality."
Dr Gavin Lavery, Clinical Director of the HSC Safety Forum, said: "Every day thousands of people, old and young are cared for in their homes, in hospital or in a community setting by the highly skilled and dedicated professionals in our health and social care services. These people may need treatment urgently or over the long term due to living with a chronic condition.
"All of them deserve and seek one thing above all: to receive care that is safe and of high quality.
"The HSC Safety Forum facilitates improvement projects in Health and Social Care across Northern Ireland. Recent achievements include advances in the quality of care for patients with serious infections, patients with stroke, and residents in nursing homes. The NEWS project has seen a single, evidenced-based Early Warning Score introduced across all HSC trusts to improve the care of patients at risk of acute deterioration in hospital.
"In Northern Ireland, our services are provided by thousands of staff who display great skill and compassion in their work. However, we need to focus on how we can continue to improve the outcomes and experiences for patients and clients.
"In November 2011, the Department of Health, Social Services and Public Safety launched 'Quality 2020', a 10-year strategy designed to protect and improve quality in HSC in Northern Ireland.  In keeping with the aims of Quality 2020, this event will act as a showcase for quality improvement and patient safety initiatives from both sides of the border and beyond.
"The 'Delivering Safer Care' conference will build networks between staff in HSC and our colleagues in the Republic of Ireland, allowing us to exchange ideas and information with colleagues and experts with relevant expertise in safety and quality from a range of sectors."
Dr Philip Crowley, National Director for Quality and Patient Safety with the HSE said: "At a time of intense public scrutiny regarding adverse events in our health care system, the all Island conference is a very welcome opportunity for professionals North and South to come together for learning and sharing of good practice.
"The health services in the Republic of Ireland are delighted to partner with the HSC Safety Forum, who has led the development of the innovative programme for this important event. It is an opportunity to share knowledge that can further improve our safety systems and quality of care so that patients in both Northern Ireland and the Republic of Ireland can benefit from the best practice and experience gained across the island."