Telemonitoring NI celebratory event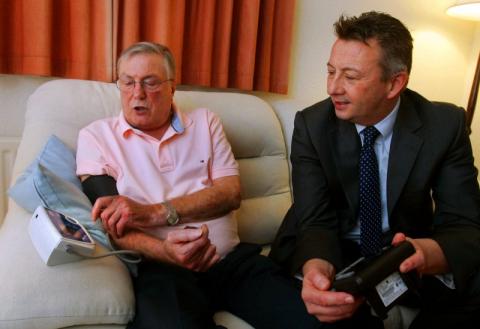 Experts from across Northern Ireland will gather today [Monday 08 April] to mark the success of the Telemonitoring NI service.
The 'Telemonitoring NI celebratory event' is being hosted by the Centre for Connected Health and Social Care (CCHSC), which is part of the Public Health Agency (PHA). The event will take place in the Long Gallery at Stormont and will attract a range of healthcare professionals.
Dr Eddie Rooney, Chief Executive of the PHA, said: "Telemonitoring is a leading example of the application of connected health, and means that people who have been diagnosed with conditions such as diabetes, heart failure, chronic obstructive pulmonary disease, transient ischemic attack or a stroke can have their vital signs monitored from their own home.
"The contract for the delivery of the Telemonitoring NI service was awarded to the TF3 Consortium in March 2011 by the CCHSC. The consortium works in partnership with the five health and social care trusts to deliver remote monitoring services to people across Northern Ireland."
To date the service has benefited around 1,500 patients in Northern Ireland, with long-term conditions helping them to better manage their health. 
Dr Rooney continued: "Not only does Telemonitoring NI help patients manage their condition; it provides healthcare professionals with information to enable them to make appropriate decisions about patient care, meaning there is less need for hospital admission, allowing for better use of resources. Telemonitoring also helps carers by ensuring they are better informed and supported.
"The event today will bring together delegates to review recent developments within telemonitoring services, showcase the achievements of the service, promote the benefits of remote monitoring and aims to encourage adoption of the telemonitoring service within the wider Heath and Social Care sector."
Further information
Contact the PHA Corporate and Public Affairs on 028 90553663
Notes to the editor
The TF3 consortium comprises Tunstall Healthcare, Fold Housing Association and S3 Group. In March 2011 TF3 was selected through a process led by the CCHSC part of the Public Health Agency (PHA) to provide a nationwide remote telemonitoring service to the Northern Ireland Health and Social Care System.