World Mental Health Day – support is out there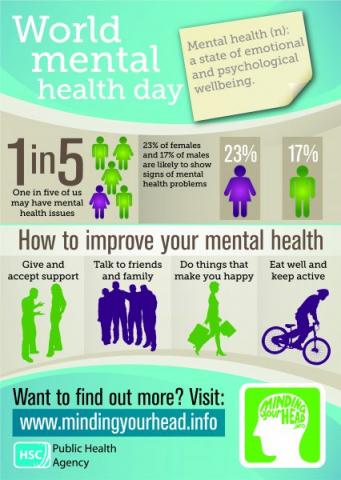 Today marks this year's World Mental Health Day, which aims to raise public awareness about the wide range of mental health issues which people experience. While there remains an element of taboo around discussing mental health, the fact is that around one in five people in Northern Ireland experience mental ill health at some stage in their lives.
Madeline Heaney, Regional Lead for Mental Health and Wellbeing at Public Health Agency (PHA), explains: "Northern Ireland is no different from many places across the world in terms of its prevalence of mental health issues. For example, it is estimated that depression affects more than 350 million people across the globe of all ages, in all communities. However, here in Northern Ireland we have a network of support services to help people who may find that they, or those close to them, are affected by a mental health issue.
"While mental health problems aren't something that people will easily talk about, it is very common. We all know someone who has experienced mental ill health so the message needs to go out that you're not alone. There are many people who experience mental ill health, it can take many forms, and it can be an issue at any age. The key is that people shouldn't be afraid to seek help and be aware that it does get better. People recover.
"Due to investment in the combined efforts of community, voluntary and statutory organisations, support is available for people, but it is important that anyone who feels that they may have a mental health problem actually accesses the services and support that is available.
"Aside from seeking support, there are some simple things that people can do to improve their mental health, such as keeping active, joining a club, meeting up with friends, eating well, and learning to accept who we are as we're all different and nobody's perfect.
"If you or someone you know is in distress or despair, call Lifeline on 0808 808 8000. This is a confidential service, where trained counsellors will listen and help immediately on the phone and follow up with other support if necessary. The helpline is available 24 hours a day, seven days a week. You can also access the Lifeline website at www.lifelinehelpline.info.
"Mental wellbeing is something that we all need to be aware of. It is nothing to be embarrassed about, and is something which we should feel confident about addressing," concluded Madeline Heaney.