In the week we celebrate World Hepatitis Day, Linda Wylie, PHA, and Aaron Carlyle, Director at Solas Pharmaceuticals Ltd discuss the continued delivery of the Needle & Syringe Exchange Scheme (NSES) during Covid-19.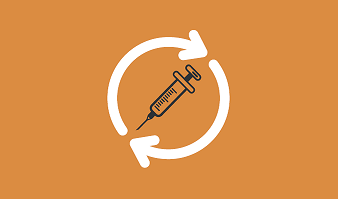 This year's drug-related deaths figures are the highest on record. They highlight the continuing challenge to address and prevent harm and death from the misuse of drugs – illegal and prescription.
The NSES is one of the PHA-commissioned services to address and prevent harm and drug-related deaths. It was started in Northern Ireland over twenty years ago, providing a vital service and supporting the health and wellbeing of the entire community.
The service is non-judgemental, providing help and support within the local community.  People were injecting long before it was established but now they have access to new, clean needles and are able to dispose of used equipment safely. Critically, they also receive professional advice. 
The service lowers the risk of some diseases spreading within the wider population, eg. HIV and Hepatitis B and C. It offers direct contact with a health professional that can help the service user to begin engaging with drug treatment services. Through working in partnership, service users can get a holistic package of support, from help with housing to tips on healthier living.
Contrary to common myth, the provision of a local needle exchange service does not increase drug use.  Needle exchange services are established in areas where there is already evidence of local people injecting substances.  Having a local service makes it easier for people to return used needles for safe disposal, reducing the potential of drug-related litter.
People from various walks of life, lifestyles and backgrounds use a needle exchange - anyone who injects substances can use a needle exchange service. This includes people who inject opioids, steroids, tanning agents or stimulants.
There are currently 21 community pharmacies and four Trust services who deliver the needle exchange service across Northern Ireland. A community-based service is currently being piloted in Belfast as well as Low Threshold services that provide the service on an outreach basis across Northern Ireland.
Throughout the pandemic, delivery of needle exchange has remained a priority.  Service providers have experienced increased pressures and challenges but have adapted and continue to meet the needs of service users while complying with government advice.  In other parts of the UK, some needle exchange services have closed, with some areas piloting postal needle and syringe provision, home delivery or peer distribution to ensure access to clean equipment during the pandemic. In Northern Ireland, our services have remained operational. We discussed their work during the pandemic with Aaron, one of our providers:
"We are a city centre pharmacy and are used to dealing with a wide range of clients from all backgrounds and different walks of life. Our needle exchange service provides an essential facility to patients who engage in activities that involve injecting substances of abuse including lifestyle and recreational drugs.
"Some of our most vulnerable patients include those patients who inject substances of abuse and many of them are homeless. Understandably during the COVID crisis, some of their needs are even greater than normal. For our patients, we have helped to maintain their access to vital healthcare services and access to a healthcare professional in such challenging times.
"We have seen a increase in demand for our services, particularly at the start of the crisis. This involved providing safe and clean injecting equipment, but also additional advice and support to these patients who were very anxious about the pandemic. We advised patients of the relevant public health messages and encouraged them to engage in these good practices as best they could.
"This allowed us to tie in specific messages surrounding infection control through appropriate use of clean injecting equipment and disposing of used equipment properly, with the guidance and advice on infection control and reduced transmission of COVID-19. For the most vulnerable patients, particularly the homeless, and those without easy access to hand washing facilities, we have supplied free gloves and hand sanitising facilities where needed. We have also tried to maintain patients' access to any repeat medicines by ordering and collecting their prescriptions where possible.
"Furthermore, with reduced access to GP services and other frontline healthcare services we found ourselves advising and treating our patients on a range of issues from minor injuries and eye infections, to dental concerns and skin conditions. In some cases, we have found some patients very anxious about the pandemic. This has been particularly evident in those groups of people who would be active drug users.
"We are conscious that in some cases, we might be the only healthcare providers they engage with. As such, we have tried to take extra time to talk, to reinforce those public health messages whilst hopefully having a positive effect on their mental health by helping alleviate some of their concerns through our advice and support."
Drug and alcohol misuse can affect anyone and can have a devastating impact. There is help available whether you are a drug user, or are affected by someone else's alcohol and drug misuse.
Support services are still operating. These services are available in your local area and you can find information on them at www.drugsandalcoholni.info