Advance Care Planning event at the Seamus Heaney HomePlace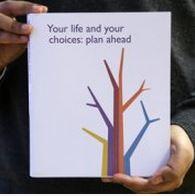 Advance Care Planning is a process through which individuals can plan ahead and make choices about their future. It is for anyone who wishes to plan ahead, whether they have a serious illness or not, and will be the focus for an event being held tomorrow [Wednesday 13 September] at the Seamus Heaney HomePlace.
The event is being hosted by the Public Health Agency (PHA) and the Health & Social Care Board (HSCB) in partnership with Macmillan Cancer Support, on behalf of the Regional Palliative Care programme – Palliative Care in Partnership, and will bring together organisations from outside the health and social care system to share information and help raise awareness of Advance Care Planning.
Corrina Grimes, Allied Health Professions Consultant and Palliative Care Lead at the PHA, said: "The purpose of the event is to promote the concept of Advance Care Planning. It will support individuals and communities to be proactive in planning for the future in terms of their personal affairs and any wishes they may have for their care towards, and at the end, of life. It may be particularly helpful for those with a progressive medical condition such as advanced respiratory disease, dementia or a progressive neurological condition. However, Advance Care Planning is for anyone who wishes to plan ahead."
Paul Turley, Commissioning Lead for Palliative Care at Health and Social Care Board, said: "This event is intended to be an initial engagement with wider community stakeholders and an impetus to encourage discussion about this important and sensitive topic. We want organisations to see the benefits of planning ahead and will discuss how they can embed Advance Care Planning within their organisations. This will help encourage conversations about planning for the future, enabling people to be more comfortable in talking about death, dying and bereavement."
Genevieve Murphy, Senior Learning and Development Manager at Macmillan Cancer Support, added: "Macmillan Cancer Support is pleased to partner the PHA on this event. It is important that people feel comfortable having open and honest conversations about death. The only certainty in life is that we will all die – what is less certain is where and what experience we will have when it happens. It's only by talking that we can agree what is really important to us, and put plans in place to make that happen."
For copies of the Advance Care Planning 'Your Life, Your Choices' booklet see http://pha.site/life-choices-plan-ahead-booklet