Be UV aware this Sun Awareness Week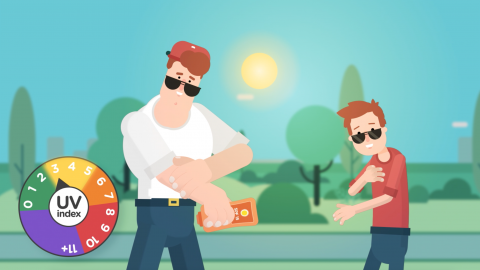 This Sun Awareness Week the Public Health Agency (PHA) and Cancer Focus Northern Ireland are encouraging people to adopt sun safe behaviours and to be UV (ultra violet) radiation aware.
 The Solar UV Index shows how much solar radiation is reaching us from the sun and how careful we need to be. UV levels vary with the seasons and time of day, but when the UV index is three or above we need to protect our skin and eyes, so it's important to know what the UV index is going to be throughout the day.
 In Northern Ireland we are exposed to UV rays between March and October, even on overcast days. The sun is particularly strong around the middle of the day, from 11am to 3pm.
 Denise McCallion, Senior Health Improvement Officer at the PHA, said: "As the temperatures rise and people start to wear lighter clothing, there is a need to be reminded of the importance of sun safety behaviours and to encourage everyone to think about their UV exposure. With this in mind and in the context of the "Making Life Better" strategy, we have produced a number of short animations with Cancer Focus NI highlighting the care in the sun messages and sun safe behaviours.
 "Being active outdoors is good for our health; it can lift our mood and also provide vitamin D. For most people, just a few minutes' exposure to the sun is enough to top up our vitamin D levels. However, over-exposure to UV radiation can cause permanent damage to our skin."
 Marbeth Ferguson, Skin Cancer Prevention Coordinator at Cancer Focus NI, stresses that it's important to remember the care in the sun messages both at home and abroad.
 "Everyone is at risk of UV damage, but certain groups are particularly at risk including babies and children, those with fair hair and skin, outdoor workers and people with a family history of skin cancer. Just one episode of sunburn, especially in childhood, doubles the lifetime risk of malignant melanoma, the most serious form of skin cancer.
 "Greater awareness of the UV index and the need for sun safety, even in our changeable climate, will help you protect your skin and allow you to have fun in the sun."
 There are a number of simple steps that will help protect against harmful UV rays:
know the UV index and when the UV index is three or above, protect your skin and eyes;

seek shade when the UV rays are strongest between 11am and 3pm;

cover up in the sun with a long sleeved t-shirt and a broad brim hat;

wear sunglasses that have CE or British Standard Marks which carry a UV 400 label and offer 100% UV protection. This will ensure they provide adequate protection from both UVA and UVB. 

sunglasses should fit your face well and relatively snugly so that light doesn't enter your eye from around the lens.

use sunscreen with a minimum of SPF 15 for UVB protection and UVA 4-stars.
 You can find out what the UV index is for your area on the Met Office website at www.metoffice.gov.uk/uv   

Some short animations have been produced to remind people to Be UV Aware and to take the necessary steps to protect themselves in the sun and actively reduce the risks of skin cancer.  They can be viewed at: www.careinthesun.org/resources/be-uv-aware/

If you are concerned about skin cancer you can call the Cancer Focus NI free information and support NurseLine on 0800 783 3339 or email one of the charity's nurses on nurseline@cancerfocusni.org
 For more information and advice on how to protect your skin visit www.careinthesun.org/uv.