Care home staff encouraged to take up booster vaccination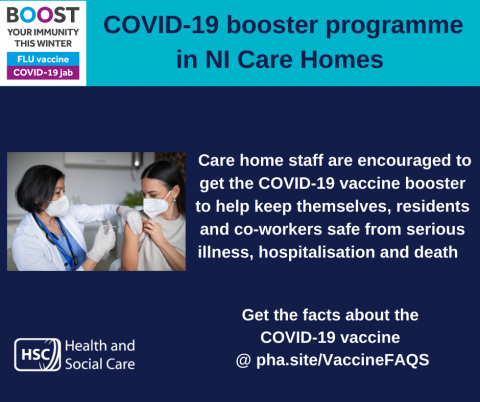 With the rollout of COVID-19 booster vaccination programme under way across residential care homes in Northern Ireland, care home staff are being encouraged to get the booster to help further protect themselves, residents and co-workers.
The booster programme, which is available to residents as well as care home staff, helps to prolong protection already received from the initial COVID-19 vaccinations and will help reduce hospitalisations as we head into colder weather and what will be a challenging period for our health service.
Sandra Aitcheson, Assistant Director of Nursing at the Public Health Agency (PHA), said: "The PHA has been working closely with the Department of Health, Health and Social Care Trusts, RQIA, Health and Social Care Board as well as care home managers to implement the rollout of the COVID-19 booster to residents and staff in care homes.
"Care home staff who were vaccinated in the first stages of the vaccination programme will have received their second dose approximately six months ago. This is a vital opportunity for care home staff to receive the booster to help build on their vaccine protection, to help keep residents and themselves safe from serious illness and hospitalisation.
"It is also an invaluable opportunity for care home staff to receive their first dose of the COVID-19 vaccine if they have not done so already.
"We have worked with the RQIA and HSC Trusts to engage with care homes to maximise the uptake of the COVID-19 vaccination programme and will continue to do so to encourage and support the uptake of the booster programme."
"This includes addressing myths and misinformation about the COVID-19 vaccine and highlight the benefits of the booster as initial vaccine protection wanes. We can ensure care home staff have the information they need to make an informed decision about getting the vaccine.
"Evidence shows that people who are fully vaccinated but who go on to contract COVID-19 can have less severe illness and are less likely to be hospitalised or die. We must continue to do all we can to keep our residents and staff as safe as possible from COVID-19."
PHA and partner organisations will continue to engage directly with care homes, in particular with those with lower uptake, to identify the barriers to vaccination and COVID booster, we will do this through:
Regular meetings with care home providers to listen to their issues and barriers and promote COVID-19 health protection advice.
Distribution of posters, letters and general information to care homes and use of social media promoting the importance of being fully-vaccinated along with other important mitigation factors, for example good infection prevention control; the appropriate use of protective equipment (PPE) for care home staff and visitors; routine testing for all care home staff and residents; testing for all visitors; following COVID-19 community guidance and now uptake of COVID-19 booster vaccination for care residents and staff
Addressing specific concerns of young women working in care homes around the impact of COVID vaccination on their fertility, which we understand has led to vaccine uptake hesitancy; highlight that there is no evidence to say this is the case and sign post to advice provided by the British Fertility Society and Association of Reproductive and Clinical Scientists.
www.britishfertilitysociety.org.uk/2021/02/09/bfs-arcs-covid-19-vaccines-fertility/
For information about COVID vaccination and COVID booster – a comprehensive list of Q&As are available at www.pha.site/vaccination-questions-and-answers