Diabetic Eye Screening provision looking for your comments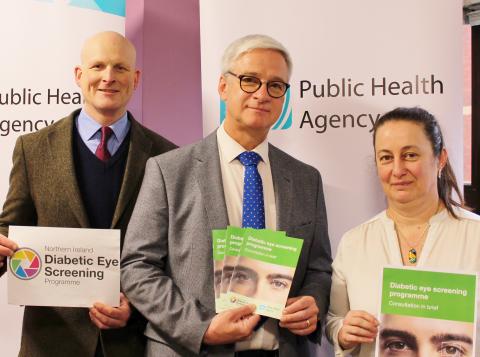 Diabetic eye disease is one of the leading causes of blindness in people of working age in the UK. The Northern Ireland Diabetic Eye Screening Programme (NIDESP) aims to detect diabetic eye disease at an early stage and prevent sight loss in those with diabetes aged 12 years and over in Northern Ireland. It is important for patients with diabetes to attend a diabetic eye screening test as this is not routinely covered as part of a normal eye test with an optometrist.
Currently, the NIDESP is undergoing a modernisation project to ensure that it remains a sustainable service and continues to improve in line with national standards.
This work has been led by a Project Board and Project Team with representatives from a variety of backgrounds including those that work in the screening programme, those involved in wider diabetes and ophthalmic care, a service user and representatives from Diabetes UK (NI) and the Royal National Institute for the Blind (RNIB).
As part of this modernisation project, the model for delivering the screening programme has been reviewed. The Project Board would like to hear your views and feedback on proposals to change how the service is delivered. These are being sought through a public consultation that will take place over 12 weeks from 7 January to 29 March 2019.
Further detail including the consultation document, summary and a link to the consultation questionnaire is available at pha.site/DESPconsultation
At present the NIDESP is delivered via a mixed model. In the Western Health and Social Care Trust (HSCT) area, screening is delivered at six fixed health and social care sites. In all other areas of Northern Ireland (Belfast, South Eastern, Southern and Northern HSCT) a mobile service is provided by screener/graders, who visit approximately 280 individual GP practices to host screening.
Acknowledging the need to review the current model Dr Adrian Mairs, Acting Director of Public Health, Public Health Agency, said: "There are several drivers for change including the challenge of the increasing size of the population requiring diabetic eye screening, which has almost doubled in the last decade. We also need to improve the programme's ability to meet the nationally recommended standard of a 12-month screening interval. That means 12 months between consecutive screens being completed.
"The current mobile model relies heavily on delivering screening at individual GP practices. With increasing pressures on primary care this mobile model is unlikely to be sustainable into the future and change is necessary to ensure we are meeting recommended standards."
Dr Tunde Peto, Professor of Clinical Ophthalmology at Queen's University Belfast and Belfast Health and Social Care Trust and Clinical Lead for the NIDESP commented: "In line with the rest of the UK, the Diabetic Eye Screening Programme in Northern Ireland must be able to introduce visual acuity testing as well as the variable screening interval which has been recommended by the UK National Screening Committee.
A variable screening interval would reduce the frequency of screening to once every 24 months for those at lower risk of diabetic eye disease and requires confidence of being able to maintain the screening intervals. Change is needed to implement these improvements."
This consultation process offers an opportunity for all stakeholders to consider and comment on the three shortlisted model(s) for service delivery. The programme is seeking feedback from stakeholders on the advantages and disadvantages of these options, and which key issues should be taken into consideration when implementing a new model.
Responses can be completed on the Citizen Space consultation website at pha.site/DESPconsultation
If you require the documents in another format or language please contact the Public Health Agency on 0300 555 0114 and ask for Claire Armstrong or alternatively email screening.diabeticeye@hscni.net
Written responses should be sent to: Consultation on Future Model for NI DESP, Public Health Agency, 9th Floor, Linum Chambers, 2 Bedford Square, Belfast, BT2 7ES.
Several engagement events are also taking place. These include information sessions which are open to the public and all other interested parties. These will provide individuals/groups with an opportunity to book a 30 minute appointment to meet with a small panel from the DESP modernisation project team to discuss the consultation, provide feedback and seek clarification on any issues.
These will be held on:
Friday 18 January 2019, Belfast Central Mission, Grosvenor House, 5 Glengall Street, Belfast, BT12 5AD. 10am­–7pm

Monday 28 January 2019, Omagh Community House, 2 Drumragh Avenue, Omagh, BT78 1DP. 10am–7pm

Monday 7 February 2019, (venue tbc)
To arrange an appointment please phone 028 9536 1655 (Monday to Friday 9am–5pm) or email screening.diabeticeye@hscni.net
Once the public consultation is completed, all feedback will be reviewed and used to assist the Project Board in making their final recommendation regarding the way in which the service should be provided in the future to ensure a sustainable, high quality, safe service.
Further information
Caption: From left, Dr Stephen Bergin, Consultant Public Health Medicine, Public Health Agency; Dr Adrian Mairs, Acting Director of Public Health, Public Health Agency; and, Dr Tunde Peto, Professor of Clinical Ophthalmology at Queen's University Belfast and Belfast Health and Social Care Trust and Clinical Lead for the NIDESP.
Notes to the editor
The review of the NIDESP service model has involved an extensive preparatory process including an initial regional stakeholder event in 2016 to establish a list of potential model options and the key objectives by which these should be assessed. A long list of seven options was created (subsequently options 2 and 7 were subdivided, resulting in a total of 10 options).
A 12 week pre-consultation was held from October to December 2017 and following this a formal options appraisal was undertaken.
The Project Board have recommended that three shortlisted options be considered via public consultation.
Further details are available in the consultation document and summary document at pha.site/DESPconsultation
Option 2a Regional fixed location service provided at HSC locations e.g. local hospitals, community hospitals, health and wellbeing centres, and suitable larger GP practices. Provided in at least 22 sites across Northern Ireland (including the current 6 sites in WHSCT).
Option 2b Regional fixed location service with sites, within selected groups of GP practices, identified in collaboration with Local Medical Committees. Provided in at least 22 sites across Northern Ireland (including the current 6 sites in WHSCT).
Option 5 High-street optometry based service with digital photography and visual acuity provided at approximately 60 high street optometrists' premises throughout Northern Ireland. The current fixed site model in WHSCT would cease.
The preferred option for the programme is Option 2a, which ranked highest in the option appraisal scoring process. This model would have the capability to meet the drivers for change and allow the programme to invite those eligible as an individual rather than as a patient within a specific GP practice.
Provision of screening in fixed health and social care sites has been in operation in the WHSCT area since the NIDESP commenced in 2008 and works well.
Option 2a has benefits for individual participants, whilst also maintaining the current tight control over programme quality which is essential for minimising potential harms to all of the individuals who require screening.