Double Celebration as TF3 and the Telemonitoring NI Service Scoop Two Major Industry Awards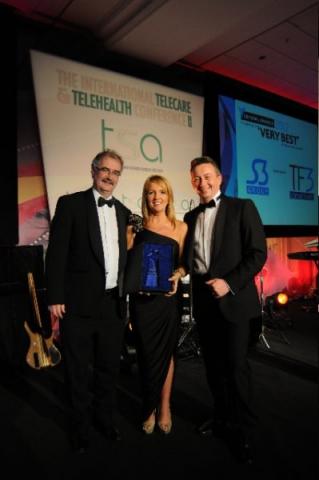 Representatives from TF3 and the Centre for Connected Health and Social Care (CCHSC) were honoured and delighted to receive two Crystal Awards at the Telecare Services Association's (TSA) annual ceremony, held in Birmingham on 13 November. Not only did the consortium win in the Innovative Product or Service Development category, it was also pronounced Overall Winner.
The Crystal Awards were created by the TSA in order to recognise 'the very best in telecare and telehealth', and the Innovative Product or Service Development category required entrants to demonstrate how innovation and creative use of technology has made a real difference to service users and commissioners.
The TF3 consortium comprises Tunstall Healthcare, Fold Housing Association and S3 Group. In March 2011 TF3 was selected through a process led by the CCHSC part of the Public Health Agency (PHA) to provide a nationwide remote telemonitoring service to the Northern Ireland Health and Social Care System. The procurement of this large scale, 'end-to-end', managed service is already supporting in excess of 1,200 active users.
Edwin Poots, Health Minister for Northern Ireland, said: "I would like to congratulate TF3 and the Centre for Connected Health and Social Care on being awarded the TSA Crystal Awards.  I know that those involved in this project have shown outstanding commitment, dedication and innovation and these awards are well deserved. 
"The ethos behind Telemonitoring strikes at the very heart of the current reform of health and social care services in Northern Ireland. The Transforming Your Care review, which is currently out for consultation, aims to bring care closer to the patient's home, avoid unnecessary hospital admissions and, where appropriate, get hospital patients back to their homes faster.  Telemonitoring will help us to do all of these things. We must utilise all that technology has to offer us and continue to achieve better outcomes for patients."
Dr Eddie Rooney, Chief executive, PHA said: "Telemonitoring is an excellent example of how modern technology can help deliver a better service for the patient and also allow more efficient use of the healthcare professional's time and skills. We are delighted to receive these awards and I would like to thank all the members of the team who work so hard to help patients gain more control over their health and improve their quality of life."
Jim O'Donoghue Vice President Telehealth at S3 Group commented: "The telemonitoring service has worked so well due to the commitment of the partnership between TF3, CCHSC and the five Health and Social Care Trusts to always put the patient at the centre of what we do, leading to improved health and care outcomes. It's fantastic to receive such endorsement from a respected industry body, and provides further evidence that large-scale telemonitoring services will form a major part of the future for health services in the UK."
For further information on telemonitoring in Northern Ireland please visit www.telemonitoringni.info
Further information
For further media information, contact the PHA Communication Office on 028 9055 3663
Notes to the editor
The award of the 6 year contract was led by the Centre for Connected Health and Social Care (CCHSC) part of the Public Health Agency (PHA) in Northern Ireland who worked in partnership with, and on behalf of, the five Health and Social Care Trusts (HSCTs). The award of the contract represents an investment of £18m by the Department of Health, Social Services and Public Safety in Northern Ireland (DHSSPSNI) in the management of long-term conditions.
3millionlives
Tunstall Healthcare and S3 Group are supporting the 3millionlives campaign, which aims to transform the lives of three million people living with long term conditions or social care needs by utilising telehealth and telecare within health and social care services. The initiative will enable millions of people to receive the significant benefits of stakeholders working together with industry to formulate the most efficient and effective ways to implement telehealth and telecarecare services at scale and to put these services at the heart of care pathways over the next five years.
Visit www.3millionlives.co.uk for more detailsBuying Solutions