First awards for Personal and Public Involvement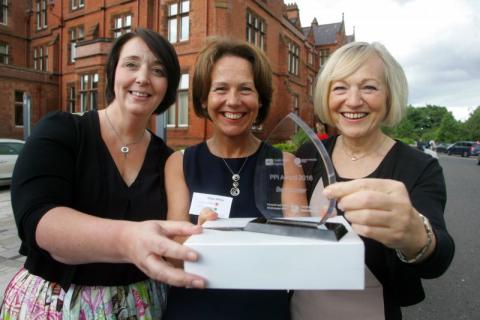 The Public Health Agency (PHA) and Queen's University Belfast (QUB) have awarded their first accolades for Personal and Public Involvement (PPI) in Health and Social Care.
Four awards were handed out in categories for Quality and Safety, Service Improvement, Innovation and Involvement, and Best Involvement Story.
The winners were:
Quality and/or safety – The Northern Ireland Cancer Research Consumer Forum (affiliated to the Northern Ireland Cancer Trials Network)
Service improvement – South Eastern Health and Social Care Trust, Community Brain Injury Team.
Innovation in involvement – 

'Come Walk in my shoes, the lived experiences of Lesbian, Gay, Bisexual and Transgender young people in Northern Ireland.' - 

event supported by a working group of the Regional LGB&T Sub Group for Children and Young People

Best involvement story – Belfast Health and Social Care Trust Podiatry Service: 'Working Better Together: Improving the Podiatric Care of Homeless People in Belfast'
The awards were established to recognise the excellent work taking place to involve service users and carers.
Martin Quinn, Regional Lead for PPI, with the PHA, said: "The awards are recognition of the ongoing excellent work that takes place right throughout Health and Social Care and highlights the importance of the engagement with those who use the healthcare system.
"We know that effective PPI delivers enhanced services in relation to improved quality and safety, more effective services with improved efficiency, which are tailored to need. We also know that we need to be more innovative in relation to involving service users and carers and that's why highlighting and sharing the excellent models of engagement in Health and Social Care can help us in our drive towards patient-centred services."
The awards were presented at the PPI Conference, 'Involving you Improving Care: Our Involvement Story'.
The first three awards were judged on the abstracts submitted to host poster presentations at the event. All submissions were reviewed and judged by a panel which included HSC staff, QUB representatives and service users and carers.
Over 40 abstracts were received which all demonstrated a wide range of actions being taken to involve service users, carers and the public.
The award for the best poster presentation who told the best involvement story was voted on by conference delegates.