Focus on rural mental health support at Balmoral Show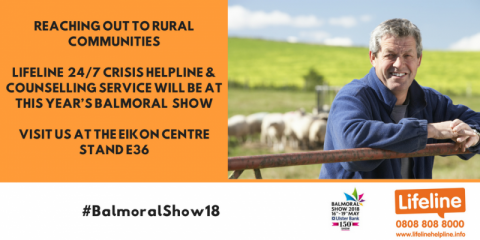 Living in the countryside brings many benefits but the particular challenges faced by rural communities can often have an impact on their emotional health and wellbeing, whether it's as the result of rural isolation or the stresses of farming life. In order to raise awareness of the support that is available, the Lifeline service will have a presence at this year's Balmoral Show.
Lifeline, which is available 24/7 on 0808 808 8000, is Northern Ireland's freephone crisis helpline and counselling service, and is available for people of all ages who may be experiencing distress or despair and require immediate support. The Balmoral Show will enable Lifeline to raise awareness of the service within the rural community, recognising some of the particular pressures that the community faces.
Speaking on behalf of the PHA, Brendan Bonner, Head of Health and Social Wellbeing Improvement for the western area, said: "Reaching out to support those who live in rural communities is important for us, as we know that farmers, their families and other rural dwellers are dealing with a number of pressures such as feelings of isolation, financial strain, rising costs and an uncertain future, all of which can lead to feeling overwhelmed and having a sense of helplessness.
"Lifeline is free to call day or night, every day of the year, even during those unsociable hours farming families often find themselves working. Trained crisis counsellors are ready take calls and if required, Lifeline can also arrange free face-to-face counselling support in a convenient location to meet the service users' needs."
Dane Higgins, owner of a bar in the town of Garvagh, emphasised the importance of rural people reaching out for support and asking for help when in despair. 
Speaking about the impact poor mental health has had on his own community, he added: "I would encourage anyone, but particularly men, struggling with a sense of hopelessness or despair to call Lifeline. I appreciate that sometimes people may find it difficult to talk to friends and family about their emotional concerns – they think it's a sign of weakness – but calling Lifeline is good way to open up if you are struggling to cope. People have to understand that it's ok not to feel alright, but equally it's ok to ask for help."
Lifeline staff will be at stand E36 in the Eikon Centre, where more information will be available on the service and how it can help you or someone you know who might need support. 
Lifeline is available 24/7 on 0808 808 8000 and is free to call from landlines and all mobiles.
To find out more about the service visit www.lifelinehelpline.info
Lifeline is the regional suicide prevention helpline service for people living in Northern Ireland who are in distress or despair.
The Lifeline service is commissioned by the Public Health Agency and from April 2018 is being managed by Belfast Health and Social Care Trust on behalf of Health and Social Care.