Joint Public Health Annual Conference 2018 – Registration now CLOSED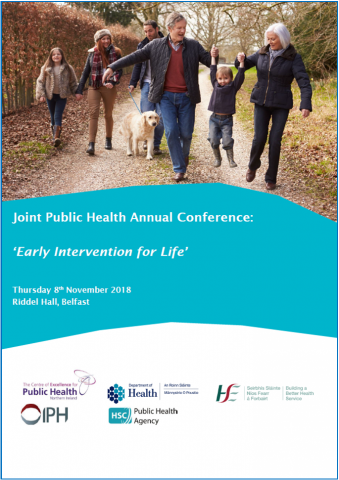 REGISTRATION IS NOW CLOSED - ALL PLACES ALLOCATED
The Joint Public Health Annual Conference entitled 'Early Intervention for Life', will take place this year on Thursday 8 November 2018 in Riddel Hall, Belfast.
Registration for this event is free and is now CLOSED. The programme is attached below.
Please note, registration closed on Friday 2 November 2018.
This annual event, organised by the Public Health Agency, is a collaborative partnership conference in conjunction with The Centre of Excellence for Public Health, Northern Ireland; The Institute of Public Health; the Department of Health and the Health Service Executive.
This joint event aims to raise the profile of public health research, interventions and innovation and engage local professionals, practitioners and researchers working in the broad field of public health.
The day will provide an excellent opportunity to network across sectors and disciplines. In addition to the keynote plenary sessions delegates will have the opportunity to participate in a number of parallel workshops showcasing the early intervention approaches that are currently underway across the island of Ireland.