Make 2022 a smoke free year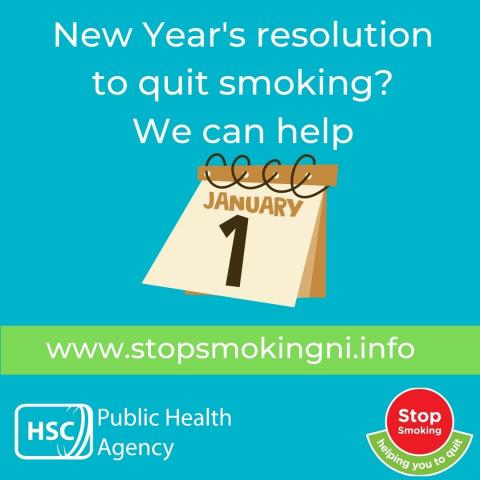 As we prepare to ring in the New Year, the Public Health Agency (PHA) is encouraging smokers to get 2022 off to a positive start and make it their New Year's resolution to quit smoking.
Colette Rogers, Strategic Lead for Tobacco Control with the PHA, said: "The New Year is a fantastic opportunity to make a fresh start and to quit smoking and we can help you make that happen.
"The past year has brought many challenges. It has also helped each of us to place a higher value on our own health and wellbeing and if you are a smoker, one of the best things you can do to improve your health is to quit.
"It is also the case that the better your health in general, the better your resistance to viruses such as COVID-19 and flu."
Due to the current pandemic, measures have been put in place to ensure continued access to PHA-funded Stop Smoking Services while still following social distancing guidelines, this includes telephone contact or video calls. These measures will ensure you can still access Stop Smoking Services in a way which is safe and easy for you.
A range of services are available across Northern Ireland that can help and support people to quit. Experienced stop smoking staff provide a friendly, supportive service and will help design a stop smoking plan that will work best for you to make your quit attempt as easy as possible.
Services are offered through many community pharmacies, GP practices, HSC Trust premises, community and voluntary organisations and by Cancer Focus NI. To find your nearest free Stop Smoking service visit www.stopsmokingni.info and use our service locator map.
"People can use New Year's Day as the date to start their quit journey and improve their health," said Colette.
"Stopping smoking now will have a positive impact on your health, not only in the long term, but also more quickly in ways you probably hadn't thought about, for example, if you smoke, your fingers are in contact with your lips, increasing the possibility of transmission of COVID-19 from hand to mouth, particularly if you haven't regularly practised good hand hygiene."
Top tips for giving up smoking
Make a date to give up – and stick to it!

Make a plan. Think about what could help you stop smoking, such as using a nicotine-replacement product, and have it ready before the date you plan to stop.

Get support from your local Stop Smoking Service. Also, let your family and friends know that you're quitting. Some people find that talking to friends and relatives who have stopped can be helpful.

Keep busy to help take your mind off cigarettes. Try to change your routine, (and plan alternative activities for places you associate with smoking) and avoid the shop where you normally buy cigarettes.

Treat yourself. If you can, use the money you're saving by not smoking to buy yourself something special. Use the calculator tool on

www.stopsmokingni.info

to see how much you could save by quitting.
For more information on the services available and useful tips to stop smoking, visit the PHA's www.stopsmokingni.info website.