Men's Sheds helping health and wellbeing of men across Northern Ireland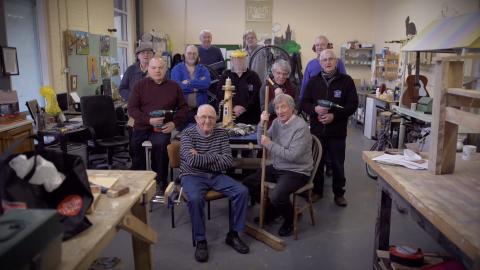 To mark International Men's Health Week (10-16 June), the Public Health Agency (PHA) is taking the opportunity to highlight the many health benefits experienced by men who have joined Men's Sheds projects across Northern Ireland.
Men's Sheds provide a place to pursue practical interests at leisure, to practise skills and revisit previous hobbies, from woodworking, metalworking, repairing and restoring electronics to gardening.
Victoria Creasy, Senior Health and Social Wellbeing Officer, from PHA said:
"Men's Sheds offer the opportunity for men to work together on projects, make new friends and have some craic. Older men can often face social isolation, particularly after they have retired or if a spouse has died, so these Sheds provide not only a brilliant opportunity to practise existing skills and learn new ones, but also to talk, laugh and support each other."
Support for the Men's Sheds Project is funded by the PHA and aligns with the Making Life Better Public Health Framework. It is delivered by Groundwork NI whose staff support the growth of new Men's Sheds.  They also provide support, networking and training opportunities to existing Men's Sheds. There are currently around 70 Men's Sheds initiatives spread across Northern Ireland.
A recent Groundwork NI survey of participants from four of the projects in the Greater Belfast area reported that:
90% attending the shed said it is helpful in combatting loneliness;
70% said it is helpful in combatting social isolation;
60% said it is positively impacting on their physical health;
55% the shed is very helpful in improving their mental health;
45% the shed is very helpful for learning new skills;
The Men's Shed movement first started in Australia in the mid-90s offering a place for men, usually retired or older men, to come together and make, mend and fix things. Activities in Sheds vary greatly, typically attracting older men, but many have also appealed to younger members and even women have started to engage and benefit from the initiative.
Whatever the actual activities, the essence of a Shed is not about the building, but the connections, relationships between its members, friendship and sharing skills and knowledge.
A recurring feature of all Sheds is the warmth, hospitality and genuine interest in improving the quality of life for men. Many men speak of the renewed sense of purpose that the Shed has given them, how it has helped them to reconnect with their community and instil a sense of identity and belonging. Some of the feedback reported from the Sheds include:
"It gives me something to look forward to";
"Without the Shed I would be lost";
"When my wife died part of me died with her, coming to the Shed has helped me to come to terms with her passing."
"It gives me a great feeling to know that my skills are valued and I am able to share this with others."
To find out more about Men's Sheds and how to join one close to where you live, or  if  you are thinking about starting a shed in your area - contact Groundwork NI for support and practical advice on how to do this. Please visit
www.groundwork.org.uk/sites/northernireland for more details
or email mensshed@groundworkni.co.uk