Moving Forward Together: Planning for the Future in Dementia Care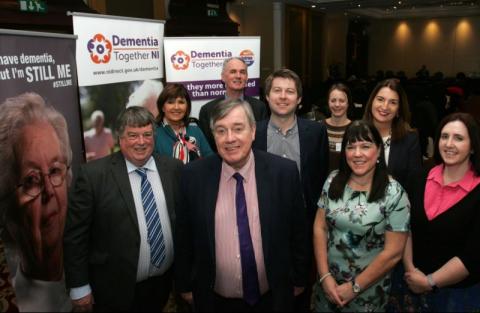 Local people living with a dementia, their families and carers, voluntary organisations and health and social care professionals are committed to partnership working, moving forward together, in the future development of dementia services in Northern Ireland. This was the key message from the Dementia Together NI Celebration Event held on 30 November 2017 at the Hilton Hotel in Templepatrick.
This regional event, organised by the Dementia Together NI partnership, recognised the valuable contribution of people living with a dementia, their families and carers. Through co-production, involving people who provide services in collaboration with people with lived experience, dementia initiatives have been implemented to raise awareness and address the stigma surrounding dementia.
To view the event photo gallery click here.
The Dementia Together NI Project was funded by the Department of Health, the Executive Office and Atlantic Philanthropies, under the auspices of Delivering Social Change. The Delivering Social Change Dementia Signature Project was launched in 2014 by the Executive Office to transform the commissioning, design and delivery of dementia services for people in Northern Ireland. The Project Board chaired by the Department of Health tasked the Health and Social Care Board and the Public Health Agency (PHA) with taking forward this work in partnership with the Alzheimer's Society and with service user support from Dementia NI.
Launching the celebration, Andrew Dougal, Chair of the Public Health Agency, said:
"It is my great pleasure today to commend everyone involved in the work undertaken by the Dementia Together NI Partnership. Our achievements include the Still Me awareness raising campaign, the development of the Dementia Learning and Development Framework, the completion of Dementia Champions Training by over 260 staff and the recruitment of Dementia Navigators across all Health and Social Care Trusts. For families and carers, Dementia Training for Informal Caregivers has been provided to over 2,000 people and innovative carer support schemes, enabling them to continue to provide care for their loved ones, have been piloted."
In her opening address, Professor Assumpta Ryan, University of Ulster, praised the partnership approach to improving services for people with dementia. Professor Ryan said:
"Today's event is an opportunity to highlight the work that Dementia Together NI has completed since 2014. The focus on collaborative working with partner organisations has been key to its success. By bringing together resources and knowledge we increase the potential for improving the lives of people with dementia. Moving into the future it is important that we are able to sustain this engagement with people living with a dementia and their carers. By talking openly with them about their experience of dementia we can identify their needs and those of their carers which helps shape the dementia care services of the future."
Sean Holland, Chief Social Worker for Northern Ireland said: "This has been a ground-breaking partnership between Executive departments and Atlantic Philanthropies. As well as delivering real benefits on the ground, it has served as a genuinely valuable and positive experiment in government working outside its traditional boundaries. The Department of Health is hugely grateful for the opportunity to participate in this unique programme of work."
Commenting on improvements in hospital care, Mary Hinds, Director of Nursing at the PHA, said: "Training in delirium awareness has been delivered to over 2,500 hospital staff regionally. Forty staff have been trained as Delirium Trainers to enable workplace training, complemented by an eLearning resource, to continue in other hospital environments. It is vital that we can continue to build on this innovative work and further embed these dementia initiatives. Furthermore, a new dementia care pathway will see the development of new roles for staff and offer people with a dementia a new community-based model of care."
Information booklets, providing practical advice on many different aspects of the dementia journey, have also been developed. These can be accessed at www.publichealth.hscni.net/publications. At the event four new information guides were launched: Talking About Risk and Dementia; Dementia and Moving to a Care Home; Occupational Therapy – Home-Based Memory Rehabilitation Programme; and Providing Comfort Care to People with Dementia During Their Last Days of Life.
In addition, an online resource available at www.nidirect.gov.uk/dementia provides information on the signs of dementia, how to get a diagnosis and where to find help and support.