NI Helplines Awareness Day highlights vital role of support networks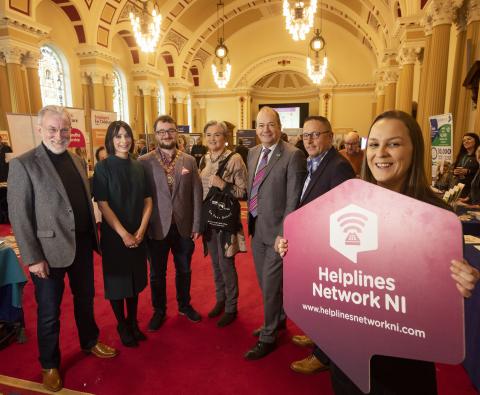 Northern Ireland Helplines Awareness Day [6 February] highlights the extensive range of helplines providing support, advice and information to the public across the region.
The awareness day event, hosted by BBC's Linda McAuley, in Belfast City Hall, was an opportunity not only to showcase the work of the Helplines Network NI and 29 helpline members, but also raise public awareness about their crucial work.
Clodagh Crowe, Chair of the Helplines Network NI and Project Co-Ordinator with Rural Support said: "Last year in Northern Ireland, our helplines responded to over  half a million calls, texts and emails. Helpline support includes information, advice, counselling, a listening ear and befriending - covering a wide range of issues, from health, to family issues, debt and welfare advice, housing, employment, child protection and emotional wellbeing.
"Helpline volunteers and staff are experts in a cross-section of issues, some affecting the most vulnerable in our society. They provide non- judgmental and professional and confidential support.
 "Often people feel unable to talk to friends or family about an issue they are struggling with, so calling a helpline provides that anonymous, confidential and  immediate support."
The Helplines Network was established in 2013 as a partnership by the Public Health Agency (PHA) in collaboration with a number of helplines. The network was set up to promote effectiveness and efficiency, provide a forum for helplines to share good practice, and encourage partnership working.
Chief Medical Officer, Dr Michael McBride, said: "Helplines are on the frontline of health and wellbeing in Northern Ireland, supporting people to make choices and decisions on many aspects of their lives. The immediacy of the support provided by the volunteers and staff working on helplines is vital when people, often in crisis, require access to swift guidance and advice.
"Northern Ireland Helplines Awareness Day is an important way to highlight the work and variety of helplines that exists across Northern Ireland and to raise awareness, not only among the public but also our health professionals, community and voluntary sector, who can signpost those in need to the correct helpline for support."
"I would like to pay tribute to the 1,000 volunteers and 200 paid staff working on 29 helplines currently in the Helplines Network. Without their compassion, expertise and professionalism, thousands of people in Northern Ireland would not have been supported by these unseen heroes."
Deputy Lord Mayor of Belfast, Councillor Emmet McDonough-Brown, said : "Belfast City Council recognises the importance of helplines to support a society where social isolation is growing. In both the Belfast Agenda and the Age-friendly Belfast strategy we commit to reducing social isolation across the city. The council is proud to support NI Helplines Awareness Day as knowing there is always help at the end of the telephone or email or text provides great reassurance to those in need of support."
"The Helplines Network NI website provides a central information point to find support for various issues. I would encourage everyone to familiarise themselves with the Helplines Network website (www.helplinesnetworkni.com) to help signpost friends and family to advice and support."
 The Helplines Network NI website provides a central information point to find support for various issues - visit www.helplinesnetworkni.com
Photo caption:
 L-R Brian Givans, Christians Against Poverty; Clodagh Crowe, chair NI Helplines Network; Deputy Lord Mayor, Emmet McDonough-Brown;  Linda McAuley, BBC; Chief Medical Officer Dr Michael McBride; Brendan Bonner, Public Health Agency; and Kylie Carmichael, a previous client of Christians Against Poverty Debt Helpline.
Notes to the editor
Current 29 members of NI Helplines Network in 2019
Action on Elder Abuse
Advice and Advocacy Service (Age NI)
National Dementia Helpline (Alzheimer's Society)
Autism NI
Business Debtline (Advice NI)
Cancer Focus NI
Carers NI
CAUSE Helpline
Child Bereavement Service (Barnardos)
Childine
Christians Against Poverty Debt Help
24 Hour Domestic & Sexual Violence Helpline (Women's Aid)
Eating Disorder Association NI
Family Benefits Advice Service (Employers For Childcare)
Family Planning Association Sexual Health Helpline
Housing Rights
Independent Welfare Changes Helpline
Invisible Traffic
Kinship Care NI
LGB&T Switchboard (Cara-Friend)
Lifeline (HSCNI)
NSPCC Helpline
Parents Helpline (ParentingNI)
HIV & Sexual Health Helpline NI (Positive Life)
Rural Support Helpline
Samaritans
SandsNI Helpline
Simon Community Central Access Point (Simon Community)
Tax and Benefits Service (Advice NI)