Northern Ireland clinical entrepreneur programme 2023, join us on September 21st for the webinar launch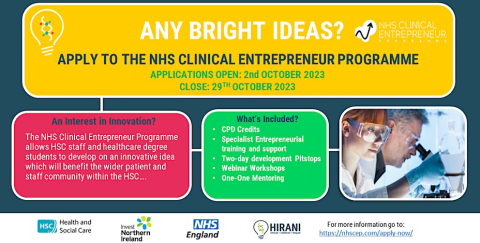 Click here to register for the webinar on September 21st at 17.30 and learn more about the programme. 
Are you a problem solver, creative thinker, or innovator in the NHS? Do you have an idea you wish to develop and scale for patient benefit? The NHS Clinical Entrepreneur Programme may be for you!
The NHS Clinical Entrepreneur Programme allows all HSC staff, allied health professionals, and healthcare graduate/post grad students or social work degrees in Northern Ireland to develop on an innovative idea which will benefit the wider patient and staff community within the HSC in Northern Ireland.
Applications open 2nd October 2023 and close 29th October 2023
The NHS Clinical Entrepreneur Programme is delivered by Anglia Ruskin University, and part of the NHS Accelerated Access Collaborative (AAC) which brings together industry, government, regulators, patients and the NHS to remove barriers and accelerate the introduction of new ground-breaking treatments and diagnostics which have the potential to transform care.
MEET THE HSC CLINICAL ENTREPRENEURS: Biographies and Photos