PHA comes out in support of LGBTQ+ community during Belfast Pride Week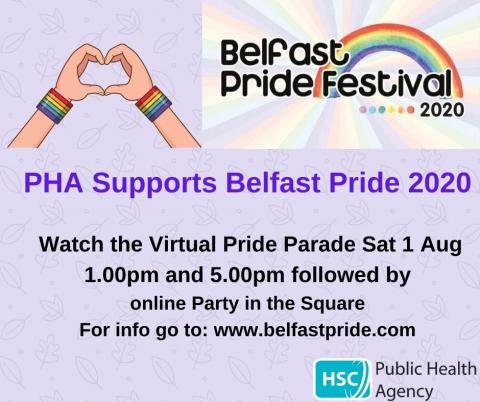 The Public Health Agency (PHA) is looking forward to taking part in the virtual Pride Parade on Saturday 1 August to mark the end of Belfast Pride week.
Fiona Teague Mental Health and Emotional Wellbeing lead in the PHA, said: "PHA is proud to support the LGBTQ+ community and we want to take the opportunity to highlight and celebrate the organisations that are doing great work, supporting the health and wellbeing of the LGBTQ+ community, which receive funding from the PHA.
"Research has shown that overall, members of the lesbian, gay, bisexual and/ or transgender community are more likely to experience depression, anxiety, low self-esteem and other mental health issues due to discrimination and social isolation. It has been important to fund some elements of the work of various groups in Northern Ireland in their mission to support the wellbeing needs of the LGBTQ+ community in Northern Ireland.
"Organisations such as the Rainbow Project, which provides a range of support services, including a counselling service, have done excellent work using awareness raising sessions within local communities to increase knowledge and skills of participants to be more aware of specific needs of the LGBTQ+ community.
"The PHA also supports SAIL NI (support, acceptance, information and learning), a group based in Newry, but which also works regionally. They provide support for families of transgender and gender variant people across Northern Ireland. They help address the health inequalities experienced by transgender individuals and their families including those dealing with mental health issues, and risk of suicide, self-harm, or substance misuse, and highlight the support services available to them.
"Our colleagues who work as counsellors for Lifeline, the free-phone crisis counselling service 0808 808 8000, are also very experienced in supporting the mental health and emotional wellbeing needs of the LGBTQ+ community and are aware of the particular struggles which some of members of the gay, lesbian, bisexual and/ or transgender community face on a daily basis.
"Due to the COVID-19 restrictions we, like so many other supporters, are unable to take part as usual in the Pride parade. We want to send a message of support to the LGBTQ+ community and let them know there are support services available for their needs, and to not struggle on their own with whatever they are going through."
Belfast Pride 2020 is online: The parade will take place on Saturday 1 August between 1.00pm and 5.00pm followed by the online party in the square.
For the Festival Guide and how to watch parade, go to: www.belfastpride.com
For further information about support for those in the LGBTQ+ community please visit the PHA's Minding Your Head site www.mindingyourhead.info and search for 'LGBTQ'.
Notes to the editor
Information on the Rainbow Project can be found at:
Information about SAIL NI can be found at:
www.sailni.com
If you or someone you know needs immediate crisis counselling support, please call the free-phone crisis helpline Lifeline on 0808 808 8000
Other organisations available for information and support are:
HERE NI – a place for lesbian and bisexual women in Northern Ireland.
visit www.hereni.org
Cara-Friend -which has been supporting the LGBT+ community in NI for over 40 years. They provide regional LGBT+ groups across support and advice and provide awareness training among professionals and volunteers working in a variety of different areas.
Please note some of the normal access to services may have been affected by COVID-19 restrictions and staff may be working remotely or providing support over the phone or online.