"Quitting smoking is the best decision I ever made"- smokers urged to quit on World No Tobacco Day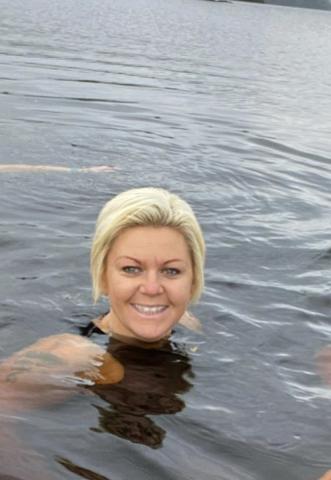 The Public Health Agency (PHA) is urging smokers to use World No Tobacco Day (31 May) as the date to start their quit journey and improve their health.
Colette Rogers, Strategic Lead for Tobacco Control with the PHA, said: "We are encouraging people to join with us and others throughout the world in quitting smoking on World No Tobacco Day."
Charlene Maguire (39) is one of the thousands of smokers who have successfully quit using the free stop smoking services available throughout Northern Ireland.
The mum-of-two from Enniskillen quit smoking in May 2017. She was smoking over 30 cigarettes a day and wanted to quit for her health.
"When I enquired about receiving help on how I could quit smoking, I came across Josie Hughes a Specialist Stop Smoking Nurse at the Western Trust. She was so helpful and reassuring and advised me of all the available stop smoking treatments and aids."
Charlene attended support sessions at the South West Acute Hospital and used Nicotine Replacement Therapy (NRT) to help with her quit attempt. She soon noticed positive changes to her health, with her senses of taste and smell becoming stronger. She also quickly noticed the money she was saving by being cigarette free.
"I started to save the money I had been spending on the cigarettes so I could bring my children on their first ever holiday abroad to Spain, which we did in 2019," she said.
Charlene is very proud that she has been smoke free for five years. Her fitness has improved significantly and she now attends the gym four to five times a week and also takes a dip for some cold water swimming.
She urged those thinking of quitting to not put it off and to go for it.
"Quitting smoking was the best decision I've ever made," she said. "I feel so full of life, energetic and most importantly healthy."
A range of services throughout Northern Ireland that can help to support you on your journey to quit are offered through many community pharmacies, GP practices, HSC Trust premises, community and voluntary organisations and by Cancer Focus NI.
"Charlene should be proud that she has quit smoking and stayed smoke free for the past five years," said Colette.
"I would encourage others who are thinking of quitting to use World No Tobacco Day as their starting point on the smoke-free journey."
Throughout the COVID-19 pandemic, support services adapted to ensure continued access to PHA-funded Stop Smoking Services while still following the public health guidelines. This included introducing telephone contact and video calls rather than face-to-face support, which remain in place for those who wish to avail of this service.
"These measures will ensure you can still access Stop Smoking Services in a manner which is safe and easy for you," said Colette.
"Experienced stop smoking staff provide a friendly, supportive service and will help design a stop smoking plan that will work best for you to make your quit attempt as easy as possible."
Top tips for giving up smoking
Make a date to quit – and stick to it!

Make a plan. Think about what could help you stop smoking, such as using a nicotine-replacement product, and have it ready before the date you plan to stop.

Get support from your local Stop Smoking Service.

Let your family and friends know that you're quitting. Some people find that talking to friends and relatives who have stopped can be helpful.

Keep busy to help take your mind off cigarettes. Try to change your routine, (and plan alternative activities for places you associate with smoking)and avoid the shop where you normally buy cigarettes.

Treat yourself. If you can, use the money you're saving by not smoking to buy yourself something special. Use the calculator tool on www.stopsmokingni.info to see how much you could save by quitting.
For more information on the services available and useful tips to stop smoking, visit the PHA's www.stopsmokingni.info website.