RAPID action takes 150,000 pills off the streets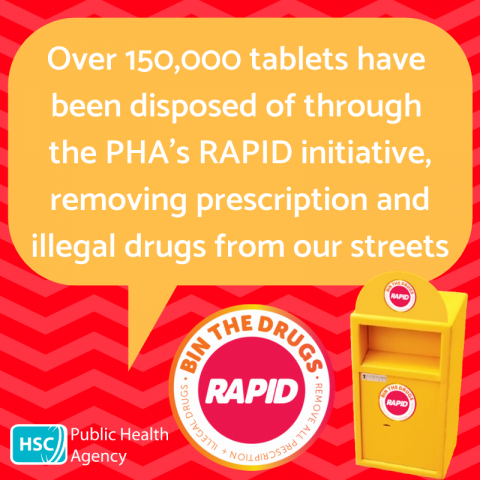 More than 150,000 tablets have been disposed of through the Public Health Agency's (PHA) RAPID initiative which is helping to remove prescription and illegal drugs from our streets.
The RAPID (Remove All Prescription and Illegal Drugs) scheme provides drug disposal bins to facilitate the disposal of unwanted drugs easily and discreetly.
Kelly Gilliland, Health and Social Wellbeing Improvement Manager at the PHA, said: "The RAPID initiative provides a safe way for anyone to dispose of drugs whether they are prescribed or illegal, and as part of 'Bring Back Your Unused Medications Week' (17-23 September) we are highlighting how these bins can help make communities safer places for everyone.
"The bright yellow RAPID bins are situated in many public locations including a number of shopping centres and community centres, but within these venues they are placed in a discreet place so tablets can still be disposed of anonymously. There are currently 30 RAPID bins in place throughout Northern Ireland, with more planned.
"While the bins can be used to dispose of all types of drugs, over 90% of the drugs disposed have been prescription medications. However, not all of these may have been prescribed via a GP and some may have been obtained illegally.
"Drug misuse, involving both illegal and prescription drugs, is sadly a common issue and causes suffering and tragedy to individuals, families and communities.
"The PHA and the Police Service of Northern Ireland (PSNI) have been working closely with local Drug and Alcohol Coordination Teams (DACTs) and Policing and Community Safety Partnerships (PCSPs) to identify and work with communities and businesses within their catchment areas that could benefit from taking part in the initiative and having a RAPID drug disposal bin installed."
Some of the most common drugs disposed of in the RAPID bins are Diazepam, Citalopram, Gabapentin, Quetiapine, Mirtazapine, Pregabalin, Tramadol, Naproxen, Co-codamol, Amitriptyline, Paroxetine, Kapake, Fluoxetine and Codeine.
For more information on existing RAPID bins and an interactive map on where they can be found visit www.drugsandalcoholni.info/RAPID
Ends
Notes to the editor
RAPID has three aims:
Removal of prescription, illegal and new psychoactive substances.

Provision of information and support to individuals, families, local businesses and community organisations to raise awareness of the effects and risks of using/misusing illegal and/or prescription drugs.

Bringing together community and statutory agencies, local businesses and the general public under the RAPID initiative to work towards making their local community a safer place to live.
The RAPID initiative was initially piloted in 2010, and due to its success, as a joint health and community safety initiative, all of the partners are keen that it is further developed and expanded over coming years to install further bins, enabling more people and communities to learn more about the risks and dangers of drug misuse and to dispose of unwanted drugs easily and discreetly.