What to do if you get flu over Christmas?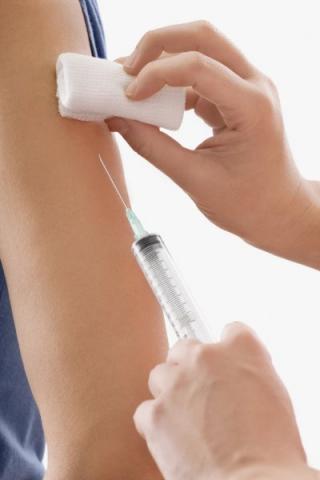 Flu is more likely to surface in the winter months and with this in mind the Public Health Agency (PHA) is advising on what action to take if you develop the illness, particularly over the Christmas period.
Dr Maureen McCartney, Consultant in Health Protection, PHA, advises: "If you do get flu, the PHA's advice is to stay at home and don't spread your infection to others, rest, drink plenty of fluids and use over-the-counter remedies if they make you feel more comfortable.
"Avoiding visits to friends or relatives in hospital or residential and nursing homes when you or they have symptoms. It is also important to make hand hygiene a top priority."
"There has not been much flu about so far this winter but the seasonal flu viruses that we have seen are covered in this year's vaccine as there have been very few flu cases to date. Receiving the seasonal flu vaccine is the best way to protect yourself and others from getting the virus, so if you are in an 'at risk' group or pregnant get the vaccine now, it's still not too late. It takes approximately 10 days to develop protection against flu following vaccination," added Dr McCartney.
Flu symptoms
If you've got flu you're likely to develop some or all of the following symptoms:
a sudden fever, with a high temperature (generally above 38°C/100°F)

a chill

a severe headache

muscle aches and pains

a sense of feeling weak and tired

a dry cough

a sore throat
Dr McCartney continued: "Flu symptoms usually peak after two or three days and you should begin to feel much better within five to eight days. If you are becoming more ill, or in an at-risk group then contact your GP for advice. Elderly people or those in 'at risk' groups may develop complications that can lead to serious illness and can be life threatening. That is why it is vital to get the seasonal flu vaccine if it is offered to you and to maintain good hand hygiene."
To get the latest information on flu direct to your Smartphone check out the PHA Flu Facebook and Twitter pages. Like our Facebook page and you will be able to receive regular updates in our newsfeed.
For more information on seasonal flu, go to www.fluawareni.info and follow us on Facebook and Twitter.
Further information
At risk groups for flu include the following:
Anyone aged 65 or over, even if they feel fit and healthy at the moment.
Pregnant women (at any stage of pregnancy).
Children and adults who have any of the following medical conditions:
- a chronic chest condition such as asthma;
- a chronic heart condition;
- chronic kidney disease;
- diabetes;
- lowered immunity due to disease or treatment such as steroids or cancer therapy;
- a chronic neurological condition such as stroke, multiple sclerosis or a condition that affects your nervous system, such as cerebral palsy;
- any other serious medical condition – check with your doctor if you are unsure.
Children who have previously been admitted to hospital with a chest infection.
Children attending schools for those with severe learning difficulties.
Anyone living in a residential or nursing home.
Main carers for elderly or disabled people.