10,000 more voices: improving the patient and client experience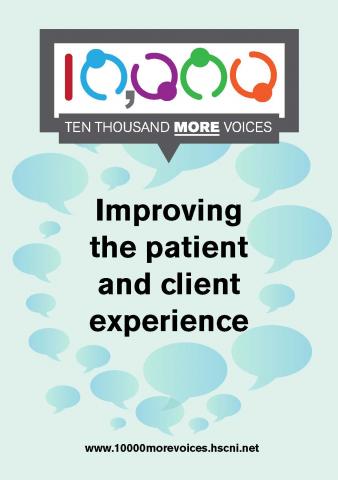 Patient and client experience is recognised as a key element in the delivery of quality healthcare. In line with this, the Public Health Agency (PHA) is carrying out an extensive piece of work across all Health and Social Care Trusts (HSCTs), with the aim of introducing a more patient-focused approach to services and shaping future healthcare in Northern Ireland.
This project, called '10,000 more voices', gives patients and clients, as well as their families and carers, the opportunity to share their overall experience and highlight anything important, such as what they particularly liked or disliked about the experience.
This leaflet gives participants the information they need before taking part in '10,000 more voices' and answers questions about confidentiality and information sharing.
Details
Format
A5, 4 pages, leaflet and A3 poster
Target group
HSC patients, their families and carers