HSC Hospital Passport and Guidance notes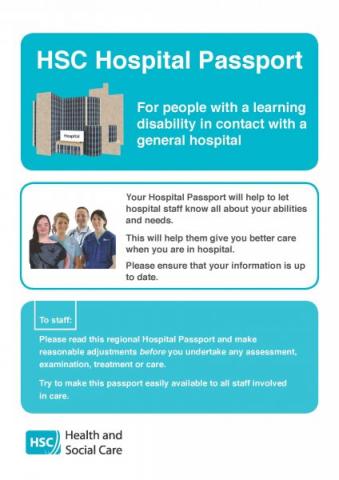 This HSC Hospital Passport has been developed by the PHA and the Regional General Hospital Forum for Learning Disability for people with a learning disability to complete (with or without help) and present to staff every time they have contact with a general hospital. It gives staff important information on the person and how they prefer to communicate, their medical history and any support they might need while in hospital. Staff can then make any reasonable adjustments in order to provide the best possible care for people with a learning disability.

The version of the Hospital passport to fill in electronically allows patients or carers to type their details directly into the document before saving, printing off and bringing to hospital.
There are also Guidance notes to help those completing the HSC Hospital Passport. These publications were distributed through HSCTs and the community and voluntary sector.
The Equality and Human Rights screening template is also available to download.
A report by TILLI on the launch of the HSC Hospital passport can be seen here.
Additional information
Details
Target group
People with a learning disability and their carers