Putting a health inequalities focus on the Northern Ireland cardiovascular service framework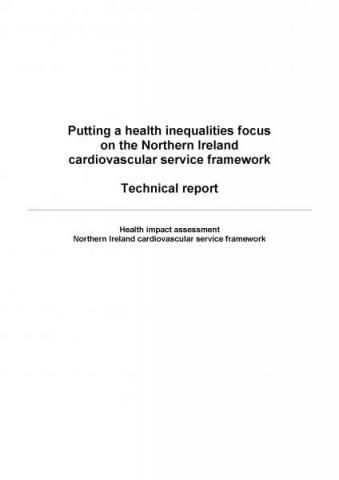 The PHA, supported by the Institute of Public Health in Ireland (IPH) and other agencies and individuals, has completed a health impact assessment (HIA) on the Cardiovascular Service Framework (CVSFW) for Northern Ireland.
The CVSFW is the first in a series of service frameworks developed in Northern Ireland to guide HSC provision from prevention and health improvement over early intervention in communities and general practice into hospital and other institutional settings towards rehabilitation, palliative care and end of life.
The CVSFW is relevant to everyone who has a part in HSC services for health improvement, hypertension, hyperlipidaemia, diabetes, heart disease, cerebrovascular disease (stroke), peripheral vascular disease and renal disease. This includes patients, carers, families, communities, voluntary and statutory service providers, policy makers and researchers.
Details
Target group
Everyone who has a part in HSC services development