Transmit: Health protection service bulletin. 2012: Issue 1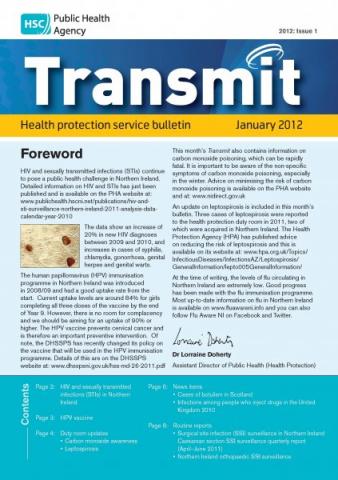 This month's Transmit leads with the recently published HIV and STI surveillance in Northern Ireland 2011 report, which was launched on World Aids Day. The bulletin provides a summary of the headline statistics from the report and includes a graph showing rates of the main STI diagnoses since 2000.
There is also an update on the HPV vaccine, which is now into its fourth year of being offered in schools. The bulletin gives an overview of the vaccination process and gives a summary of vaccine uptake rates by the end of Years 9 and 10 in school.
This month's duty room updates highlight carbon monoxide (CO) awareness and the symptoms to be aware of in relation to CO poisoning. There is also an in-depth look at leptospirosis, a notifiable disease that remains rare but is still occurring in small numbers each year. Guidance is provided on treatment of the disease and also on what measures to take to avoid risk of infection.
This month's news leads with three cases of botulism, a typically food-borne disease, that were recently identified in the same family in Scotland. The news also flags up the recent Health Protection Agency report on infections among injecting drug users in the UK.
Details
Format
A4, 9 pages, bulletin
Target group
Health protection professionals