Launch of Annual Quality Report on World Quality Day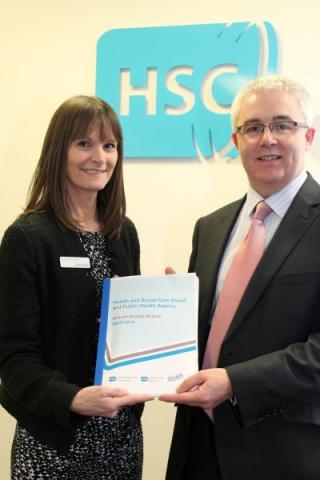 Today is World Quality Day and the Public Health Agency (PHA) and Health and Social Care Board (HSCB) are publishing their first Annual Quality Report, to highlight the work completed in improving the quality of health and social care services in Northern Ireland.
The annual quality report has come from a recommendation from Quality 2020, a strategic framework and plan of action that aims to protect and improve quality in Health and Social Care (HSC). The Quality 2020 strategy defines three core elements of quality being safety, effectiveness, and patient and client focus.
Pat Cullen, Executive Director of Nursing, Midwifery and Allied Health Professions at the PHA, said: "The HSCB and PHA want patients, carers and their families to feel confident about the quality of health and social care services in Northern Ireland. The annual quality report demonstrates what we have done to achieve this in the last year. It also highlights the broad range of work that we routinely undertake and reaffirms our commitment to deliver quality."
Throughout 2013/14 there has been a sustained focus on developing and implementing services that improve the quality of care in HSC, for example the implementation of a pressure ulcer prevention programme (the 'SKIN' care bundle) within acute hospitals. This work is ongoing in partnership with Your Turn, a non-profit organisation, to raise awareness of pressure ulcer prevention in the community.
Another example is the 'Fallsafe' bundle. Falls are among the top five most frequent adverse incidents reported in HSCTs. They can not only lead to physical injury, they can also have a significant detrimental impact on a person's confidence, increase anxiety and lead to a reduction in mobility. The PHA is leading a project to implement The Royal College of Physicians' 'Fallsafe' bundle in hospitals in Northern Ireland, which is an evidence-based bundle of interventions shown to reduce falls.
There has also been a reduction in healthcare-associated infections (HCAIs). The PHA oversees and delivers a number of regional HCAI surveillance programmes in Northern Ireland. Partners across health and social care use the information reported through our regional surveillance programmes to monitor the impact of infection prevention and control programmes and service improvements. As a result, Clostridium difficile (C-diff) and meticillin-resistantStaphylococcus aureus (MRSA) rates are now at an all-time low.
The HSCB and PHA have made a significant investment in the 10,000 Voices initiative, which has provided an opportunity for patients, carers and their families to share their experiences. More than 6,000 people have taken the time to do this, influencing the delivery, design and improvement of services.
Michael Bloomfield, Director of Performance and Corporate Services, said: "By focusing on things that really matter to patients and staff we have seen improvements across HSC services. 
"There is, however, no room for complacency. Therefore the HSCB and PHA will continue our efforts to ensure and improve good practice, and to address areas of concern. The coming years will present a very challenging financial environment, but it is essential that efforts to improve the quality of care are maintained.
"In order to build upon the work highlighted in this year's annual quality report, we will continue to implement Quality 2020 which will result in further improvements in the care patients receive and the environment staff work in." 
To view the annual quality report click here.
For further information on Q2020 strategy see: www.dhsspsni.gov.uk/quality_strategy_2020 or contact Lisa Moore at lisa.moore@hscni.net
Ends