Influenza (commonly referred to as 'flu') is a respiratory illness associated with infection by influenza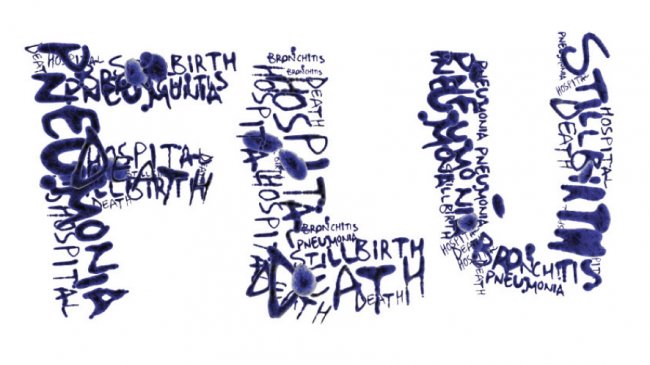 virus. The symptoms of infection commonly include: a headache, fever, cough, sore throat and myalgia (aching muscles and joints) and can result in severe illness for certain people who are 'at risk', including older people and those with certain medical conditions.
Those defined as 'at risk' include:
pregnant women in all stages/ any trimester of pregnancy
anyone aged over 65 years, even if they feel fit and healthy at the moment
children and adults who have any of the following medical conditions:

a chronic chest condition such as asthma
a chronic heart condition
chronic liver disease
chronic kidney disease
diabetes
lowered immunity due to disease or treatment such as steroids or cancer therapy (people living in the same house as someone with lowered immunity may also need to be vaccinated)
a chronic neurological condition such as stroke, multiple sclerosis or a condition that affects your nervous system, such as cerebral palsy, or hereditary and degenerative diseases of the central nervous system or muscles
any other serious medical condition - check with your doctor if you are unsure

children who have previously been admitted to hospital with a chest infection
children attending schools for children with severe learning difficulties
anyone living in a residential or nursing home
main carers for older or disabled people
People defined as being 'at risk' are eligible and encouraged to receive the flu vaccination free of charge on the NHS through their local GP practice. Furthermore, this year the flu vaccination is being offered to all children aged 2-4 years old and primary school children.
Influenza surveillance
Influenza surveillance data is collected all year round by the Public Health Agency in collaboration with the Northern Ireland Regional Virus Laboratory, local GP practices, and a number of other relevant local agencies who kindly provide data to the influenza surveillance department.
The earliest occurrence of seasonal influenza varies from year to year; but most often occurs during the winter months - usually beginning in October or November, and peaking between December and March. During the 'flu season the PHA publishes a regular 'flu bulletin outlining the season so far, including GP consultation rates and information on the circulating virus.
2018/2019 flu bulletins
To see the 2018/2019 flu bulletins click here.
Annual Surveillance Reports
Northern Ireland Influenza Surveillance Report 2017-18.pdf
Surveillance of Influenza in Northern Ireland 2016-17
Surveillance of Influenza in Northern Ireland 2015-2016.pdf
Surveillance of Influenza in Northern Ireland 2014-2015
Surveillance of Influenza in Northern Ireland 2013-2014 
 Surveillance of influenza in Northern Ireland 2012-2013
Surveillance of influenza in Northern Ireland 2011-2012