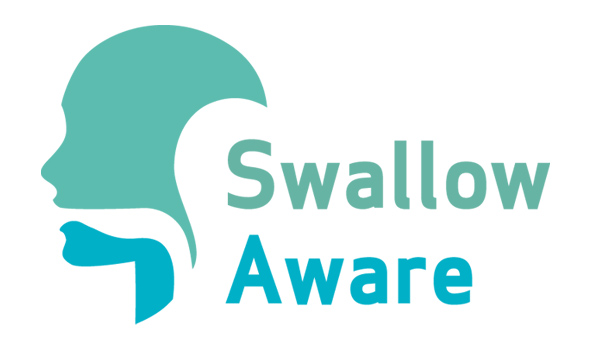 Overview
Difficulty swallowing (dysphagia) is the medical term used when a person has difficulty eating, drinking or swallowing. Trouble swallowing may come from an obstruction in the throat or medical conditions that cause dysphagia such as:
Introduction
The Swallow Aware project is led by the PHA working closely with statutory, independent, regulatory and community and voluntary sectors with the aim of developing systems, processes and services for people living with dysphagia in Northern Ireland. 
The project has its origins in an extensive task and finish group chaired by regional Dysphagia Co-Chairs and the Regional Choking Review
From these findings seven regional priorities were identified that would directly improve the care of individuals with swallowing difficulties in Northern Ireland. 
Our aim is to develop these seven regional priorities that will make a difference to individuals with swallowing difficulties, their carers and the healthcare systems, processes and services that impact their care. 
Swallow Aware helps people with swallowing difficulties, their carers and staff from the across the health, social, independent, educational and catering care sector in Northern Ireland to share their unique perspective and codesign materials and resources that provide collective solutions to regional challenges faced by these groups across Northern Ireland.
What do we want to achieve?
Swallow Aware is supporting collective activity to provide solutions to the following regional dysphagia priorities and create a regional groundswell of awareness of the life changing impact of swallowing difficulties. 
The regional dyshagia priorities are:
Dysphagia Personal and Public Involvement:

  Involving people with dysphagia in the design, development, delivery and decision making of all project outcomes.




 

Dysphagia Friendly Foods

: Understanding the lived experiences of people living on dysphagia friendly foods and the support provided to catering services across sectors to produce dysphagia friendly foods.  Developing initiatives to support the provision of regional excellence in the provision of dysphagia friendly foods. 




 

Tele Eating Drinking and Swallowing

:

Piloting delivery of Speech and Language Therapy assessment to people living in nursing homes with eating, drinking and swallowing needs using videoconferencing technology.




 

Regional Speech and Language Therapy Swallowing Recommendations

:

Developing a regional Speech and Language Therapy swallowing recommendations which is unambiguous and includes swallowing recommendations and key safety information.


 

Regional Approach to Dysphagia Training:

Co-production of a regional training proposal with HSCNI, community and third sector groups  and developing a regional approach to public awareness of Dysphagia and awareness of staff to provide support and capacity.


 

Evaluation of the International Dysphagia Diet Standardisation Iniative

Exploring the impact of the regionally agreed and mandated terminology for food and fluid texture descriptors  (International Dietary Descriptors Standardisation Initiative) on the practice of staff groups  across Northern Ireland.


 

Review adverse incident reporting

 

Create better reporting and shared learning to improve safety and confidence for everyone.

Dysphagia Friendly Meds:  Raise awareness and support medication management guidelines.

Oral care guidance: Develop oral hygiene guidance for people with a swallowing difficulty.

Identification Checklist: Assist health care professionals in recognising how swallowing difficulties may present, alongside supporting actions to further highlight the needs of the service user.
You can download these posters and other resources below.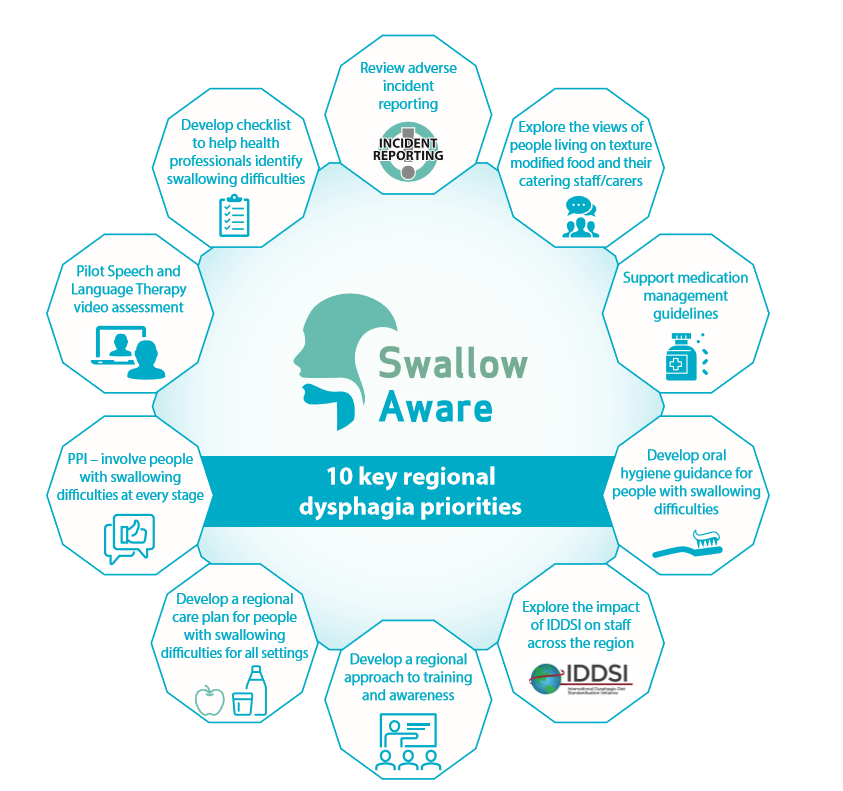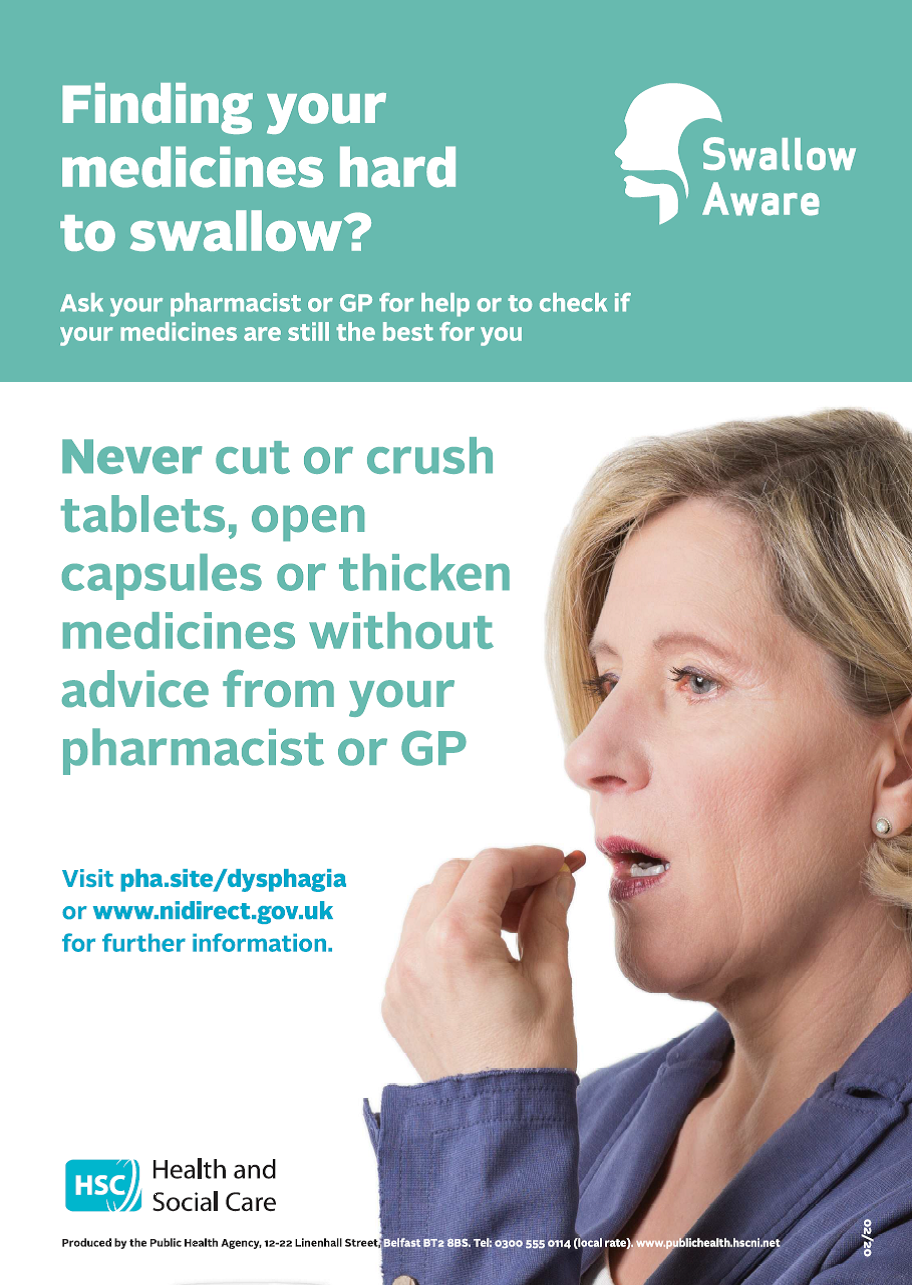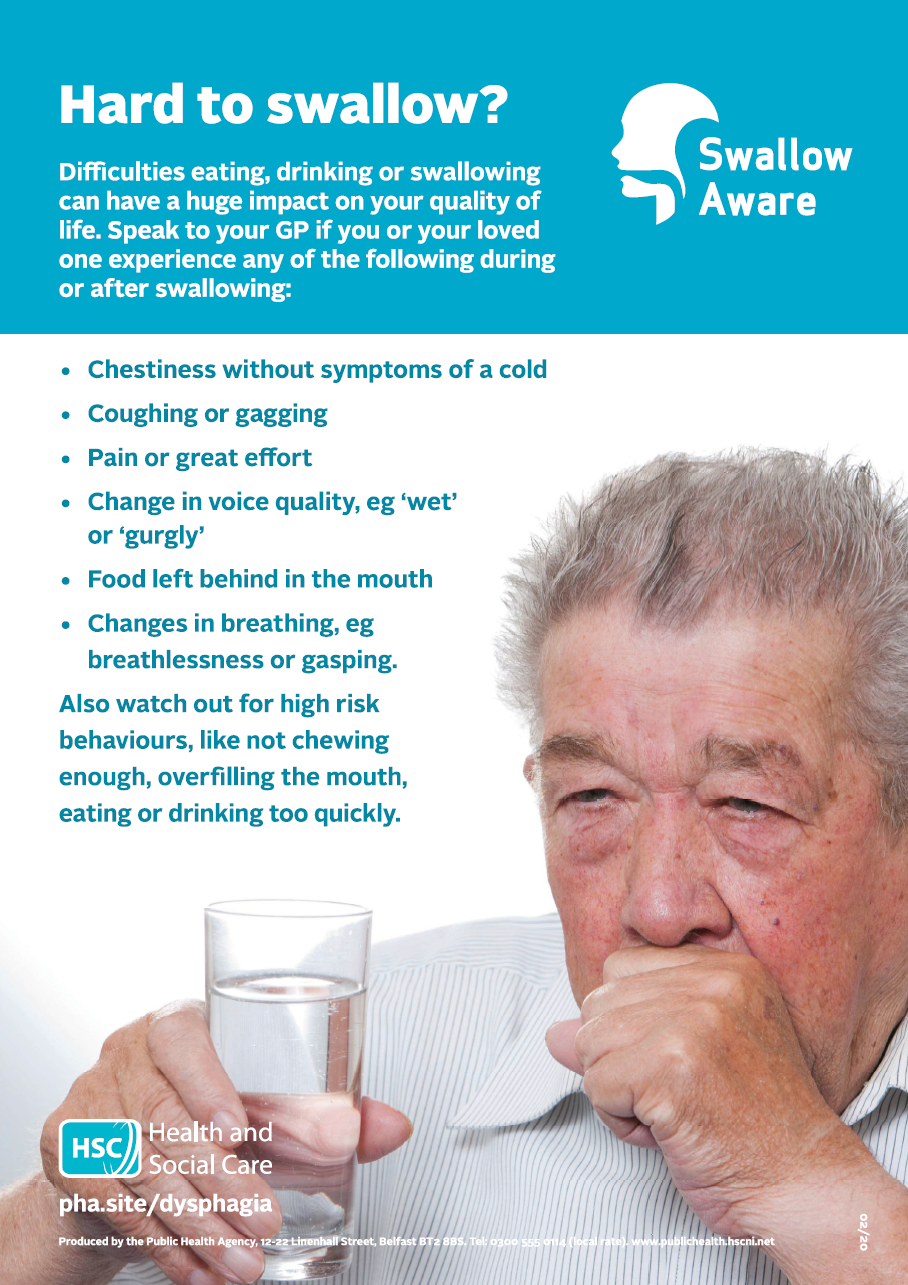 Opportunities to get involved
If you have experienced swallowing difficulties or are a carer with experience in helping those with swallowing difficulties we would like to hear from you. Please click on the links below to find out more.
Logos
The Swallow Aware logo is available to download below as a full colour jpg file, a black png version and a while (reverse out) png version. EPS files for use by designers and printers are also attached in a zip file below. Please consult the Brand guidelines below to ensure proper application when using the logos and contact the PHA if unsure of application.
Dysphagia resources
Dysphagia NI E-Bite
A regionally run news and information resource.