Pregnant? Have your COVID-19 vaccinations (English and translations)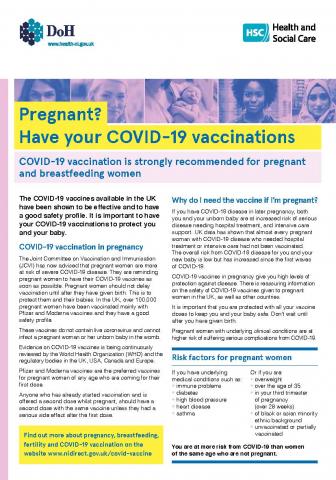 This factsheet contains the latest information on the COVID-19 vaccine for women who are pregnant or breastfeeding. Please read this before your vaccination.
A large print accessible version is available below as a Word document.
A Braille format of a previous version of this leaflet is available from Trust vaccination centres or by contacting Michelle.McKibbin@HSCNI.net. An audio version of the leaflet is also available.
A previous version of this leaflet is available in BSL and ISL videos below. These will be updated shortly.
Additional information
Plain text translations of this leaflet are available to download below. If you need this information in a language that is not available here, you can use the Browsealoud facility on this website. This tool can translate and/or read aloud over 90 other languages. The full list of languages available is here and instructions for how to use the Browsealoud option are available to download here.
Details
Target group
pregnant women, breastfeeding mothers