Protecting your child against flu: Vaccination for your toddler or pre-school child (English and translations)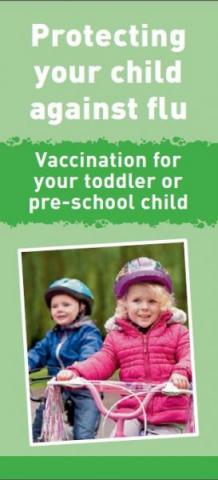 The annual flu vaccination programme is being extended to include all children aged 2 to 16 years (inclusive). The extended programme will be introduced in stages. From the autumn of 2018 the following children will be offered the flu vaccine:
• All pre-school children who are aged two years or over on 1 September 2018 (ie children born between 2 July 2014 and 1 September 2016)
Some translations are of an earlier version of the leaflet, details may vary.
Details
Target group
General public