COVID-19 vaccination - A guide for parents of children aged 5 to 11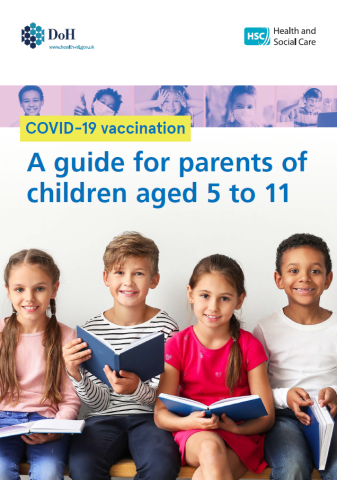 This leaflet should be read by parents and carers of children aged 5-11 prior to their child's COVID-19 vaccination appointment.
Each child's dose is a third of the amount of vaccine that is given to older children and adults. Children will be offered 2 doses of vaccine 12 weeks apart.
You can make an appointment for your child at a children's vaccination clinic in your local Health and Social Care Trust using the online booking system at: https://covid-19.hscni.net/get-vaccinated You may be able to attend without an appointment - see www.nidirect.gov.uk/covid-vaccine
Translation in 17 languages and a large print accessible version is available to download below.
British and Irish sign language versions of the leaflet are available here;
Details
Format
A5, 8 pages PDF only
Target group
Parents of 5-11s