Public Health Annual Research and Practice Conference, 8 June 2016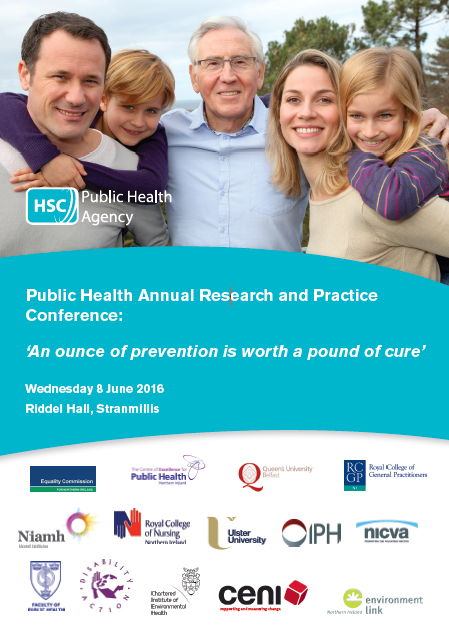 The Public Health Agency and partners hosted the fourth Public Health Annual Research and Practice Conference on Wednesday 8 June 2016 at Riddel Hall, Stranmillis Road, Belfast.
The full programme is available here Public_Health_Conference_prog_june_2016 final.pdf
Dr Carolyn Harper, Director of Public Health, delivered the main presentation entitled The economic case for prevention, is available here
All other presentations are available for download below for a limited period.
The Theme: 
An ounce of prevention is worth a pound of cure.
Why attend?
Be informed – network – discuss – get new ideas.
Who should attend?
Multi-sectoral, Multi-disciplinary Professionals, Practitioners and Researchers working in the broad field of Public Health.
This all day conference will consider the value of public health interventions in economic, social and environmental terms.
Partner organisations:
Queen's University Belfast, The Centre of Excellence for Public Health, Northern Ireland, Northern Ireland Affairs Committee of the Faculty of Public Health, NI Council for Voluntary Action, Royal College of General Practitioners, Royal College of Nursing, Ulster University, NI Association for Mental Health, Institute of Public Health in Ireland, Equality Commission for Northern Ireland, Chartered Institute of Environmental Health, Disability Action, Northern Ireland Environment Link, Community Evaluation Northern Ireland.
Abstracts - Click here for details
For enquires contact Finola McAlarney at finola.mcalarney@hscni.net or Lesley Armour at lesley.armour@hscni.net
Presentations:
Carer-reported health conditions among seven year old children in NI in 2011 - Lorraine Fahy.pdf
Coproduction in a community setting the benefits of coproduction approaches in improving health and wellbeing Alison Briggs.pdf
Family Nurse Partnership - Breaking cycels of dependcy - Karen McGuigan.pdf
Is social media an effective method for delivering skin cancer prevention public health messages - Aisling Gough.pdf
Mental health - promotion and prevention - Amanda Jones.pdf
NIAC Manifesto&Practitioner Membership_AMairs.pdf
Outcomes cost and utilisation of a web based intervention for reducing alcohol consumption in hazardous-harmful drinkers.pdf
Prevention presentation - Prof ONeill.pdf
public understanding of evidence in nuitrition_IYoung.pdf
Reducing the cost burden associated with smoking through the pharmacy stop smoking service - James Griffiths.pdf
Respiratory Oubreak notification_ Chris Nugent.pdf
Scoping Study Early Years _C Ramsey, JTurnbull & F Hand.pdf
Second-hand smoke exposure among children and young people in Northern Ireland - rogress and challenges - Joanna Purdy.pdf
Smoking casues sight loss - Jackie McCall.pdf
The Cost of Alcohol Frequent Attenders - Staging an Intervention - Karen Adams.pdf
The Mourne Heritage Trust's ACtive Lifestyles Programme - Matthew Bushby.pdf
Understanding the impact of walking, trail development and the natural enviornment on public health - Aideen Exely.pdf
Weigh to healthy pregnancy_MToland&JCalvert.pdf
Weight management support during pregnancy - Mary Maxwell-Pat Cusick.pdf
Working together supporting community pharmacies - Florence Hand & Jane Turnbull.pdf